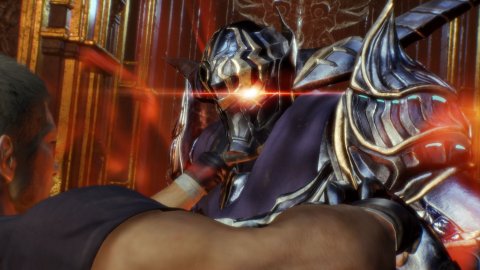 Stranger of Paradise Final Fantasy Origin
Stranger
of Paradise Final Fantasy
Origin was presented last June and immediately became famous for one detail: CHAOS !! The word Chaos is repeated often and with considerable emphasis, especially by the protagonist controlled directly by the player. "Chaos" has therefore become a meme, but the developers are not happy about it.
Speaking to TheGamer, the producer of Stanger of Paradise Final Fantasy Origin - Jin Fujiwara - said: "There was a lot mystery around the game and we couldn't reveal too much, but in terms of the general plot already unveiled, if someone goes to the Temple of Chaos in search of Chaos, to defeat Chaos, and meets a boss who claims to be the one who will become Chaos, inevitably when you explain the plot the word "Chaos" will pop up often. He hadn't really thought it would cause such a strong reaction: it was a bit unexpected. Obviously it's not something we particularly like. But looking back now, it might have had a slight impact positive if it got people interested in the game. From our point of view, it's better that way than being ignored ".
In other words, they would have preferred a different reaction, but in any case it's better than nothing. At least, in this way, Stranger of Paradise Final Fantasy Origin has been around the web and many have discovered what it is.
A second test phase is currently underway: a video comparison shows the graphical improvements. Also, here's our trial of Stranger of Paradise Final Fantasy Origin.
Source Did you notice any errors?
---
Final Fantasy Souls-like 'Stranger in Paradise' arrives March 18th
Only a few months after we got our first look at Stranger in Paradise: Final Fantasy Origin Square Enix announced a release date at Tokyo Game Show. It will hit PlayStation 4, PS5, Xbox One, Xbox Series X/S and PC on March 18th.
Stranger in Paradise: Final Fantasy Origin is an attempt to bring a Dark Souls-style feel to the Final Fantasy universe. It's an action RPG from Nioh developer Team Ninja that by all accounts will be pretty difficult, which fits in with the Souls-like vibe.
A new trailer gives some hints at the story and a peek at some of the beings you'll encounter, including a pirate with an enormous ax and a multi-headed monster. The visuals still look a bit rough, but at least Team Ninja and Square Enix have a few months to polish things up.
Meanwhile, Square Enix has released a second demo. It's an expansion of the first timed trial that was available in June, only this time you can play with your friends on PS5 and Xbox Series X/S. There are more enemies to test your mettle against, new areas to explore and additional playstyles and jobs to check out. The demo is available until October 11th at 10:59AM ET.
Stranger in Paradise: Final Fantasy Origin has a free upgrade path from PS4 and Xbox One to PS5 and Xbox Series X/S respectively. Along with the base game, you can preorder a Digital Deluxe Edition, which includes extra missions and a digital artbook and mini soundtrack. Preordering either version will net you a few in-game goodies, and you'll have early access to the whole game 72 hours before the official launch.
© Square Enix/Team Ninja Stranger in Paradise: Final Fantasy Origin