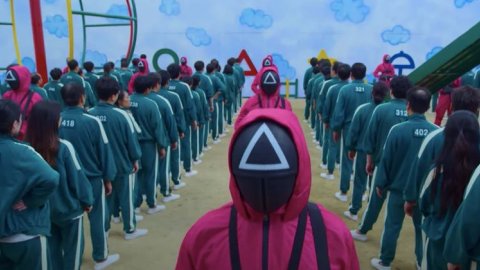 Squid Game in Roblox
The Netflix Squid Game series is a huge worldwide success and the video game world could hardly stay away from it. Squid Game has become a game in Roblox: more than one, actually. The most famous is that of Trendsetter Games which now gives away a series of codes to get some in-game money.
Here are the currently active Squid Game codes in Roblox, they usually expire quickly, so use them right away:
LotsOfStuff - 500 in-game cash 30kMembers - 250 in-game cash FrontPage! - 200 LotsOfLikes in-game cash! - 250 in-game money Marbles - 100 in-game money
Roblox characters in the style of Squid Game As with other Roblox games, the developers of Squid Game will offer new codes as the title passes certain objectives ,
how to get
a certain number of Likes and a certain number of players.
The Netflix Squid Game series is enjoying great success, but it's not the only big series coming. We remind you that soon you will
be able to
see
The Witcher Season 2
: here are the trailers shown at Tudum, Netflix event.
How not to mention also Cobra Kai 4: release date and trailer unveiled by Netflix, it is close. Remaining in the field of gaming, did you know that Netflix has acquired the Oxenfree studio?
Source Have you noticed any errors?
---
2 Stocks Benefiting From Squid Game's Success
© Provided by The Motley Fool 2 Stocks Benefiting From Squid Game's Success
Squid Game is a South Korean drama television series enjoying tremendous success on Netflix (NASDAQ:NFLX). This success has driven Roblox (NYSE:RBLX) game creators to create numerous gaming experiences mimicking Squid Game. Today's video focuses on how a successful TV series like this can affect numerous stocks. Here are some highlights from the video:
CONSTELLATION BRANDS, INC.
A streaming service needs only one popular hit series to drive new subscribers to its platform. Netflix saw massive subscriber growth in 2020 due to lockdown restrictions, which has caused a slowdown in 2021 compared to other years. Many investors believe that Squid Game and the numerous hit series appearing in the second half of the year can revive Netflix's subscriber growth.  
When you look at the up-and-coming Roblox experiences, you will notice some resembling or even mimicking Squid Game. Investors should note how quickly a Roblox game creator can create an experience and take advantage of notable events. 
Netflix's stock price has seen positive action in the past few weeks. A possible reason for the positive price action could be that investors are expecting Netflix to report strong subscriber growth in the upcoming quarters due to the popularity of series like Squid Game. If Netflix does not report strong subscriber growth, that could create bearish moves in its stock price. 
Click the video below for my full thoughts and analysis. 
*Stock prices used were the closed prices of Oct. 1, 2021. The video was published on Oct. 2, 2021.
SPONSORED:
10 stocks we like better than Netflix
When our award-winning analyst team has a stock tip, it can pay to listen. After all, the newsletter they have run for over a decade, Motley Fool Stock Advisor, has tripled the market.*
They just revealed what they believe are the ten best stocks for investors to buy right now... and Netflix wasn't one of them! That's right -- they think these 10 stocks are even better buys.
See the 10 stocks
*Stock Advisor returns as of September 17, 2021
Jose Najarro has no position in any of the stocks mentioned. The Motley Fool owns shares of and recommends Netflix and Roblox Corporation. The Motley Fool has a disclosure policy. Jose is an affiliate of The Motley Fool and may be compensated for promoting its services. If you choose to subscribe through his link, he will earn some extra money that supports his channel. His opinions remain his own and are unaffected by The Motley Fool.