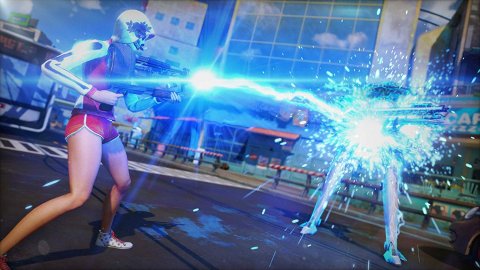 On April 26, 2021,
PlayStation
registered the trademark of Sunset Overdrive. If you remember, we are talking about an exclusive title
for Xbox One
, also released on PC, developed by Insomniac Games. Nothing surprising: since Sony now owns Insomniac, the game's intellectual property is in fact his.
What does this mean? Maybe Sunset Overdrive will arrive soon
on PS4 and PS5<
/a>
. It would certainly be great news for users of the two consoles, because we are talking about a great game. After all, for Sony it would be a way to launch an extra title for its hardware without spending a lot. Although it is not an exclusive, since it is a first party it could use it in different ways, enhancing the small investment. For example, it could give it away with the Plus, or launch an improved version with next-gen features. We'll see.
In the meantime,
if you want
you can go and have a look at the trademark registration page.
Let's read the description of Sunset Overdrive taken from the Microsoft Store:
Don't miss the game which IGN awarded the title of Best Xbox One Game of 2014, which Polygon awarded 9 out of 10 and which Eurogamer called "a breath of fresh air". In Sunset Overdrive, we are in the year 2027 and Sunset City is under siege. A contaminated energy drink has turned most of the population into toxic mutants. For many it's the end of the world, but for you it's a dream come true. Your boss? Dead. The hated job? Gone forever. Turn the open environment into your tactical playground: grind, jump and run on city walls, using an unconventional and devastating arsenal. With hyper agility, unique weapons and customizable special abilities, Sunset Overdrive rewrites the rules of traditional shooters with an explosive, irreverent, stylish and completely out of the box adventure exclusively for Xbox One.
Have you noticed any errors?