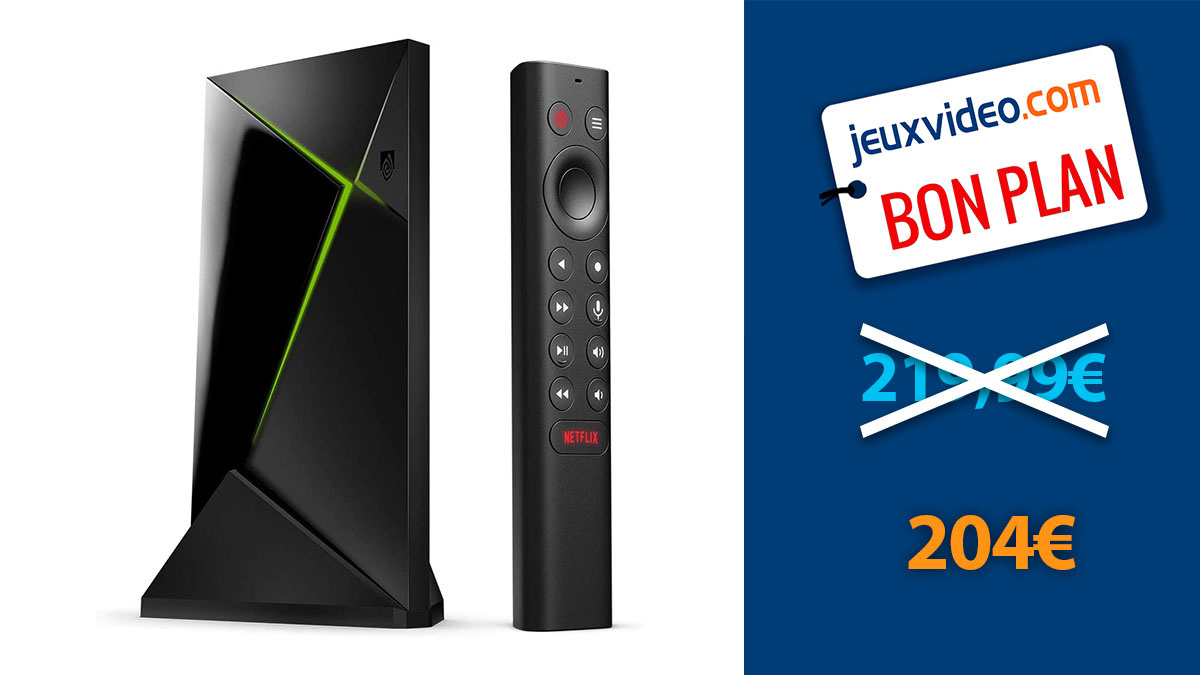 Nvidia promo
Amazon promo: Shield TV Pro
The Shield TV Pro has been out for some time and continues to grow in households. This streaming solution from Nvidia offers various features! It is offered at the best price currently on Amazon.
Buy the Shield TV Pro for € 204 instead of € 219
Enjoy streaming gaming on your TV
Nvidia returns with its second generation of Shield TV! Faster, smarter, it outperforms the old model in many ways, erasing the small flaws of the previous version in the process.Indeed, the Shield TV Pro now integrate
s Dolby Vision
and Dolby Atmos for full compatibility with Google Assistant. . Ultra connected, this Shield has it under the hood and promises many hours of gaming, in ultra high definition.
It is a real multimedia HUB bringing together all the high performance streaming services broadcast in 4K thanks to its Tegra X1 chip. But that's not all since you will be able to enjoy the latest AAA games in the best versions with Geforce Now, Nvidia's cloud gaming service.
You will have access to a large catalog of games that you can buy and have it in your game library. You can share your gaming sessions with an automatic backup immortalizing your best gaming moments. To take advantage of the service, all
you need to
do is connect and
play for free
. You also have the possibility to play immediately by upgrading to the higher subscription.
Nvidia Cloud Gaming
is available on
all Android devices, iPhones, iPads, Macs, Desktop PCs, Laptops and Shield TV.
Also read:
Find all of our great deals on gaming, hardware and high-tech Sales 2021: The best TV and Soundbar offers
---
If you're looking to buy a reasonably priced, mid-range gaming PC, you should check out HP's Pavilion desktop. You can get one equipped with an AMD Ryzen 5 5600G APU (Zen 3) and Nvidia GeForce RTX 3060 graphics card (Ampere) for $1,173.24 right now.
The final tally will depend on your exact configuration, which also affects which coupon code you can use. Pricing actually starts at just $649.99, though it's worth making some upgrades before hitting the checkout screen.
Mid-Range Gaming Desktop Deal
HP Pavilion | AMD Ryzen 5 5600G | GeForce RTX 3060 | 8GB RAM | 512GB SSD | $1,234.99 $1,173.24 at HP (save $61.75)This gaming desktop pairs a 6-core/12-thread APU based on Zen 3 with a GeForce RTX 3060 based on Ampere, for a decent price. Just be sure to use coupon code 5GAMER2021 for the full discount (or upgrade some of the components and use coupon code 10GAMER2021 for a bigger discount).View Deal
HP doesn't let us link custom configurations, so you have to make changes on your own. One possible route is to bump the processor up to a 6-core/12-thread Ryzen 5 5600G, the storage to 512GB (SSD), the GPU to an RTX 3060, and the chassis/PSU combo to 400W. Then at checkout, apply coupon code 5GAMER2021 to save $61.75.
It's not the beefiest configuration around, and the we're not especially jazzed with just 8GB of RAM. If you upgrade to 16GB and double the storage again, to a 1TB SSD, the price comes to $1,454.99 before discount. This also allows you to apply a bigger coupon code—10GAMER2021—to bring the price down to $1,309.49 (save $145.50).
Our only hesitation is the limited upgrade path. Armed with just a 400W power supply, there's not a lot of headroom to swap out the GPU down the line. As is, however, either configuration would be good for gaming at 1080p, with the pricier config being better equipped to handle 1440p gaming as well.