Batman / Fortnite: Punto Zero, in Italy the cross-over comic between the Dark Knight and the Epic game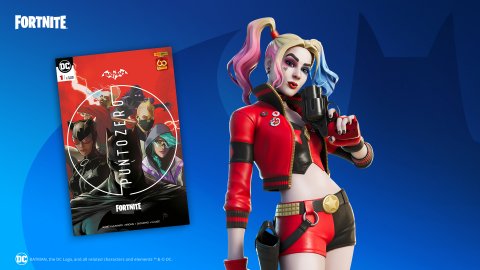 Batman / Fortnite
Panini DC Italia has confirmed that starting tomorrow, Batman / Fortnite: Punto Zero will also be available from us, simultaneously with the USA. This is the comic that crosses over between the Dark Knight and the famous characters of the Epic Games game.
Written by Christos Gage, with the narrative advice of Donald Mustard, Epic's Chief Creative Officer, Batman / Fortnite: Punto Zero is designed by Reilly Brown, Christian Duce, Nelson DeCastro and John Kalisz. The cover of issue one is made by Mikel Janín (Batman, Wonder Woman, Future State: Superman - Worlds at War). This is a mini-series in 6 issues that will be available every fortnight from Tuesday 20 April.
The cover of the first volume of Batman / Fortnite: Zero Point. In every hard copy of Batman / Fortnite: Punto Zero there will be a code to redeem an aesthetic object of the game within Fortnite,
inspired by
the events of the comic. It starts with the Harley Quinn Rebirth costume, redeemable with the first issue of the miniseries (and
available in
game starting in June). Then, in order of release, the Batman Zero Wing Hang Glider, Catwoman's Clawed Gr
apple
Pickaxe, the Deathstroke Destroyer Hang Glider, Harley Quinn's Vendetta Backdrop and, with the latest release on July 6, the Batarang Ax Pickaxe. Collecting all six codes will also unlock the new Batman Zero Armored costume.
The plot
An anomaly has appeared in Gotham City. A rift in reality itself sucks the Dark Knight and tran
sports
him to an unknown and bizarre world, in which he does not remember who he is or where he comes from ... Batman ended up in Fortnite! Here he will find himself fighting against unusual opponents, face to face with characters such as the renegade Raider, Pescesecco, Bandoliera and many others. And as the world's greatest detective tries to make sense of this bizarre new world, he will discover the shocking truth about the Island, what lies beyond the loop and how everything is connected to the mysterious Zero Point. >
This miniseries is characterized by its extraordinary drawings and by a story that will thrill the followers of Batman and those of Fortnite. An unprecedented adventure that stages the adventures of the Hooded Crusader against the Fortnite champions on the Island, in a desperate attempt to save not only himself but also the other familiar faces of the DC Universe ... and perhaps the whole Multiverse.
Have you noticed any errors?
---
Everything you need to know about Fortnite S6 week 6
It is a brand new week in Fortnite and despite it being unlikely we will see a new update come to the game, there is still a lot going on.
Here is everything you need to know about Fortnite this week.
16.30 Update
Last week saw the 16.20 update come to the game, bringing vehicle mods and other additions to the game.
Since the update was last week it means the 16.30 update won't be until at least next week.
But, we may see a small patch, possibly the 16.21 update which could make small changes to the game.
The Recycler was added outside of the 16.20 update so Epic Games could be planning something similar to keep players on their toes.
Week 6 Challenges
Along with the 16.20 update came the week 5 and week 6 challenges.
The week 5 challenges went live last week and we can expect the week 6 challenges to go live this week on Thursday at 9am EST/2pm BST.
Check out the week 6 challenges below.
Epic Quests
Here are the Fortnite Season 6 week 6 Epic Quests:
Open safes (3)
Complete bounties (3)
Reach max shields in different matches (3)
Stay within 20m of a player for 3 seconds while wearing a prop disguise (3)
Hit from 50m or greater with a bow (1)
Complete the swimming time trial at Weeping Woods or Coral Castle (1)
Visit Fancy View, Rainbow Rentals, and Lockie's Lighthouse (1)
Each Epic Quest is worth 24,000 XP, meaning that completing them all with net players 168,000 XP, or about two levels.
Legendary Quests
Here are the Season 6 week 6 Legendary Quests:
Deal damage with Makeshift weapons (2500/5000/7500/10000/12500)
But, you need to be quick because the Legendary Quest will only be in the game for one week before disappearing.
First Fortnite X Batman Comic Released
The first issue of the new Fortnite X Batman Zero Point comic book series will be released later this week.
Zero Point will be a six-part series which sees Batman once again end up on the Fortnite island after being sucked into the Zero Point loop.
He will then have to try and find his way back home by discovering how the loop works.
The series will run from April-July with new issues being released every two weeks.
You can check out the comics here.
Amazon (US)
Forbidden Planet (UK)
DC Universe Infinite (Online subscription)
Harley Quinn Rebirth Skin
Players that purchase issue one of the Zero Point comic series will receive a code to unlock the new Harley Quinn Rebirth skin for free.
Readers that purchase all six issues will also be able to get a new Batman skin when the final issue is released in July.
These skins will also be available to purchase in the Item Shop at a later date.
Solo Rumble Siphon
Team Rumble has become a key part of Fortnite, offering a casual team deathmatch type mode for players that just want high action fun with respawning turned on.
Recently Epic Games has released a solo version called Solo Rumble Siphon.
As the name suggests, siphon has been enabled, granting players 50 health for each elimination.
The game ends when a player reaches 60 eliminations.
So far the mode has gotten great feedback and it would be great to see this mode added to the game permanently alongside Team Rumble for those players that enjoy the game's mechanics but are getting bored of Battle Royale.
Dreamhack Open Delayed
Dreamhack is one of the most popular esport hosts in the world and throughout 2021 they are hosting monthly Fortnite tournaments with a $250,000 prize pool for each event.
Unfortunately, April's Dreamhack tournament has now been delayed until May.
In a tweet it was revealed that the tournament had been delayed due to integrity concerns, this could mean a participant may have cheated or colluded with another player, but there has been no confirmation as to the reason.