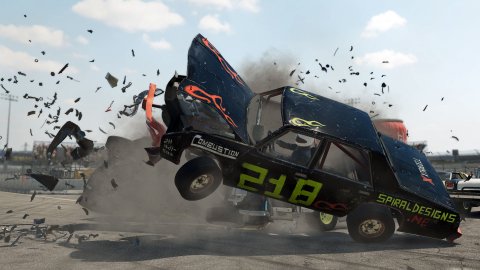 Wreckfest arrives on PS5
Publisher THQ Nordic and developer Bugbear Entertainment have announced with a new trailer that the
PS5
version of Wreckfest is on the way. Precisely, the release date of this car game is set for June 1, 2021 at the price of 39.99 euros. Players who own the PS4 version will be able to upgrade for € 9.99.
THQ Nordic explains that the PS5 version of Wreckfest offers "the best console experience and takes advantage of all the added power of
PlayStation
. 5. Not only does this version offer improved graphics with dynamic dirt on vehicles, better textures and improved graphics effects, but it brings the game to 4K with a frame rate of 60 FPS. Multiplayer now reaches 24 players. "
Loading times will also be improved thanks to the PS5's SSD. THQ Nordic also reports that Wreckfest will take advantage of the DualSense haptic feedback functions. There will also be improvements to the amount of foliage, shadows, particles and ambient light.
We remind you that Wreckfest arrived
on PC in
June 2018 (via Steam) and in August 2019 it was released on PlayStation 4
and Xbox One
. The PS5 version, we repeat, will be available starting June 1, 2021.
Wreckfest
also arri
ves on
PS5
---
Wreckfest Now Runs at 4K/60 FPS on Xbox Series X
Xbox Series S version bumped up to 4K at 30 FPS.
Several developers over the last few months have taken the opportunity to leverage the combination of the Xbox Series X/S' more powerful hardware and backward compatibility capabilities to go back to older releases and boost them up for the newer consoles, either in terms of resolution or performance (or both). The latest game to do that is Bugbear Entertainment's car combat title Wreckfest.
As revealed by the developer in the patch notes for the game's most recent update, Wreckfest now runs at 4K and 60 frames per second on the Xbox Series X, while on Xbox Series S, it runs at 4K and 30 frames per second. Whether the latter is running at a native resolution hasn't been specified, though it seems unlikely.
It's worth noting that this same update hasn't been made available on PS5. Owing to how the PS5's backward compatibility functions, several games have missed out on similar enhancements on the console, in spite of receiving them on Xbox Series X/S, with the likes of Rocket League and Star Wars: Squadrons being notable examples.
Wreckfest is available on PS4, Xbox One, and PC, and playable on PS5 and Xbox Series X/S via backward compatibility.