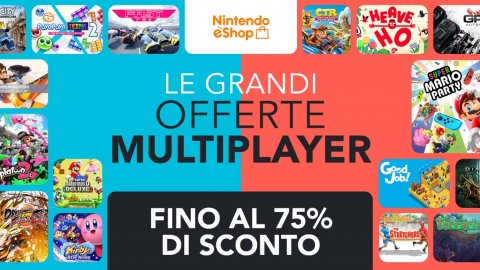 Nintendo Switch
Nintendo
Switch
is about to
host a great initiative with the Great Multiplayer Offers, which offer discounts on 190 games for the console, within the Nintendo eShop in digital.
The theme that unites these promotions is clear: yes it is mainly multiplayer
games for Nintendo Switch
and Nintendo Switch
Lite, discounted up to 75% or more, in some cases. The offer will start on Nintendo eShop from Thursday April 1st at 3:00 pm to end Sunday April 11th at 11:59 pm local time.
Among the games featured in this initiative are Splatoon 2, Crash Team Racing: Nitro- Fueled,
Dragon Ball FighterZ
, Diablo III: Eternal Collection and Super Mario Party, just to name a few, but in total there will be about 190 based on what was announced by Nintendo, so there will be some time to spend on the pages of the eShop on Nintendo Switch to get a better idea of ​​which games will suffer a price reduction.
Among the discounted games are the following, according to what Nintendo reported today, without clarifying the prices yet but announcing the expected discount rate:
Splatoon 2 -33% Crash Team Racing Nitro-Fueled -50% Dragon Ball FighterZ -84% Puyo Puyo Tetris 2 -38% Super Mario Party -33% Diablo III: Eternal Collection -50%
Overwatch
-50% New Super Mario Bros. U Deluxe -33% Mortal Kombat 11 -60% GRI D Autosport -30% Streets of Rage 4 -35% Killer Queen Black -30% LEGO City Undercover -75% Terraria -50%
Super Bomberman R
-75% Nidhogg -60% Heave Ho -50% FAST RMX -30%
Many discounts are coming to Nintendo Switch with Great Multiplayer Offers Have you noticed any errors?