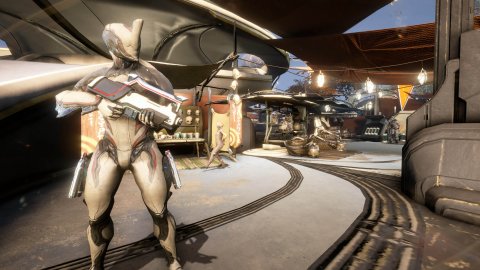 Warframe
Warframe will receive a specific update
for Xbox Series X
| S in April 2021, thus making the game upgrade to the next gen also on the front of the
Microsoft
console, after having already done so on
PS5
.
Xbox too Series X and Series S will therefore receive the next gen update for Warframe, which certifies the impressive longevity of Digital Extremes' online multiplayer action game, which has now been running for eight years and apparently destined to continue in the new Generation.
After the big expansion provided by Heart of Deimos, Warframe has already got a PS5 specific update, which you can also read the review published in January. The update for Xbox Series X | S should be essentially the same seen on the
Sony
console, with all the improvements also made on the new Microsoft platforms, beyond those specifically provided for PS5 such as support for DualSense and for activities at the internal user interface.
There is no precise release date yet but the update should arrive in April 2021: Warframe should go to 4K and 60 fps
on Xbox Series X
, waiting for understand what are the expected features for the Xbox Series S, in case they are different.
Warframe is available on PC and on practically all consoles but Digital Extremes has reported that it wants to bring it to other platforms as well, which could be referring at this point to mobile platforms or to Google Stadia.
Warframe now reaches 8 years of activity and also arrives on Xbox Series X | S Source
---
Warframe Xbox Series X Release Window Revealed
Warframe has been available on the PlayStation 5 for a few months at this point, but those who own one of Xbox's next-gen consoles have been left waiting for the popular shooter to come their way. Fortunately, developer Digital Extremes has now announced when the game will be coming to Xbox Series X and S platforms and the ensuing wait won't last much longer.
Divulged in a new developer live stream, the team at Digital Extremes revealed that the Xbox Series X upgrade for Warframe will be rolling out alongside Update 30 for the game. Specifically, this update is set to go live at some point in April, meaning that at the very latest, fans will only have about another month to wait to see Warframe get its boost for new Xbox platforms. In all likelihood, we should hear about a more specific release date for Update 30 very soon given this window.
While this is surely the biggest news regarding Warframe for Xbox fans, Digital Extremes is still looking to improve the next-gen iteration of the game on PlayStation 5 as well. When the studio was working on the version coming to Xbox Series X, an issue with the PS5 version was discovered. Upon fixing this problem, the developer found that it was able to cut load times down on PS5 even further. Giving a specific estimation, one developer at Digital Extremes said that the PS5 loading times have now been chopped in half compared to what they were before. So if you thought the game was previously a bit slow to load on the new PlayStation hardware, this fix should rectify your own problem.
Are you excited to finally have the next-gen version of Warframe coming to Xbox? Let me know what you think either down in the comments or over on Twitter at @MooreMan12.
[H/T MP1st]