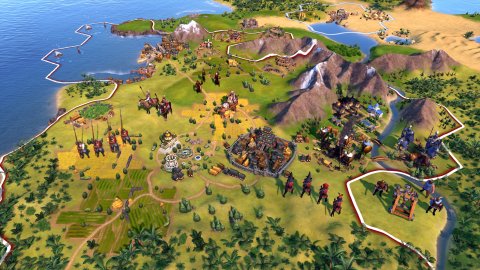 PS Plus
Sony
PlayStation
will unveil
free PS Plus games
next week. We've known for some time that Oddworld: Soulstorm will be free on
PS5
, but we don't have any information about free PS4 games. Now, however, an image of the Japanese PS Store has popped up on the net showing Civilization 6
for free on
the PS Plus. Could it be one of the games of April 2021? some clues that lead us to think that this will not be the case. First of all, some reports indicate that Civilization 6 is not available for purchase in other regions (also in Italy, based on the test we made at the time of writing via the PC version of the Store),
so it is
possible that the game has problems around the world and that in Japan it appeared as "free with PS Plus" only by mistake.
Also, Civilization 6 is currently available as a free trial all weekend on PS4,
PC and Xbox
One . It would be strange if after a week the game went free on PS Plus: the public certainly would not appreciate the 2K strategy. Most likely, therefore, Civilization 6 will not be a free game in April 2021.
However, we specify that this is only reasoning and speculation, not official information. For the moment it is clear that something is happening with Civilization 6, which precisely is too early to tell.
There is no
thing left to do but wait for official information.
Finally, we remind you that you still have little time to claim the free PS Plus
games for March
2021: here is the complete list.
Is Civilization 6 free on the Japanese PS Plus? Source
---
PS Plus April 2021 free PS4 and PS5 games: Uncharted Lost Legacy to join Oddworld?
PS Plus April 2021 predictions include Uncharted Lost Legacy (Image: SONY)
Sony is getting ready to unveil the PS Plus free PS4 games for April 2021.
The next batch of PlayStation Plus games will be revealed by Sony at 4.30pm on March 31. The games will be available to download less than a week later on the morning of April 6.
The new PS Plus free games will replace the existing line-up of Destruction All-Stars and Maquette on PS5, as well as Farpoint on PSVR.
Remnant: From the Ashes and Final Fantasy 7 Remake are the outgoing games on PlayStation 4.
With the new PS Plus games about to be revealed by Sony, fans have been having some fun predicting the line-up over on Reddit.
Needless to say, PlayStation exclusive games can be found at the top of the list of PS Plus predictions.
This includes heavyweight blockbusters such as Uncharted: Lost Legacy, Gran Turismo Sport and Gravity Rush.
PS4 horror shooter The Order 1886 gets its customary mention, while Hideo Kojima's Death Stranding is also predicted.
With Kojima's studio gearing up to announce a brand new game, giving Death Stranding away for free would be a good way of drumming up interest.
Marvel's Spider-Man also gets a few mentions, especially with the sequel making waves on the PlayStation 5.
Horizon Zero Dawn would usually be top of the predictions list, although it's unlikely in April, as Sony is adding the Complete Edition to the Play at Home collection.
Nier Automata, The Walking Dead: The Telltale Definitive Series, Surviving Mars, No Man's Sky, Dark Souls Remastered and Firewatch are also mentioned.
A few people believe Star Wars Jedi Fallen Order could join PS Plus, or perhaps Star Wars Squadrons.
However, as other users point out, a Star Wars game seems more likely in May, especially with PS Plus games launching on May 4th.
Uncharted 4: The Lost Legacy trailer
One thing we do know for sure is that Oddworld Soulstorm will be the free PS5 game for April 2021.
The sequel to Oddworld: New 'N' Tasty is a 2D platform game with some seriously impressive visuals.
'Set directly after the events of 2014's Oddworld: New 'N' Tasty, Oddworld: Soulstorm is the second game in Abe's heroic new epic,' reads the official description.
'Abe has now undergone a transformation - from a clueless Mudokon cog about to be chewed up by the Glukkons' mega-corporate machines into an unlikely hero who rises to become a beacon of hope.'