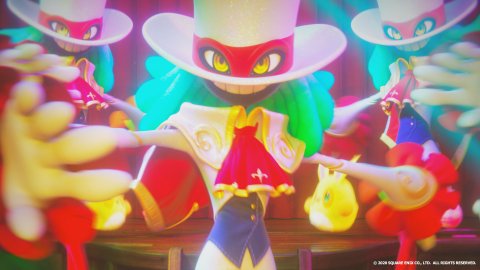 Balan Wonderworld is a new game from Square Enix. It is an old-fashioned platform game, which even before its release had raised some doubts among the public. For the moment, a first review of the international press
is available on
line, which rejected the title with a 4/10. As we know, the public does not always agree with the specialized critics, but in the case of Balan Wonderworld the vote of many users is 10/10 on Metacritic. Metacritic, it is possible to see that all versions of the game (and especially the
Xbox Series X
version) are inundated with positive reviews, namely 10/10. Without going around it, it's almost certainly the work of some bots. We don't want to deny the possibility that players enjoy Square Enix's game, but the reviews come from accounts with clearly procedurally generated names. Furthermore, these accounts have never released any reviews other than Balan Wonderworld.
Some Metacritic users have also already taken steps to leave negative reviews and report that Balan Wonderworld is a bad game and that you don't want to. must trust 10/10 of other users. At the time of writing, the Xbox Series X user rating is still 9.5. The other versions travel around 8/10.
Waiting for our review, we would like to point out what was said by the only international review currently on Metacratic. Finally, remember that Balan Wonderworld is risky to play if you suffer from epilepsy: Square Enix recommends the day one patch.
Balan Wonderworld receives 10/10 from Metacritic users Source