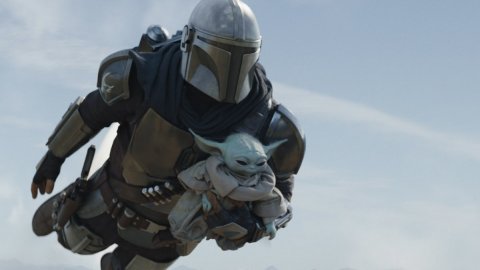 The Mandalorian
One of the reasons why The Mandalorian quickly went viral is the presence of "Baby Yoda", a nickname given by the Star Wars community to Grogu. But we discover that Dave Filoni - executive producer - and John Favreau - director and screenwriter - argued "fiercely" about the character.
Filoni explained: "Honestly, it's something I never would have done because Yoda is Yoda. . I think people look back now and think we jumped in. Actually we were very cautious. The level of attention, especially in the first season, about how we presented this baby was very high. "
The creators of The Mandalorian were in doubt about Grogu, especially since the original designs featured feral, wrinkled hands. A new artwork, which you can see below, made it real. Favreau states that Grogu was "awkward and ugly" in the right way. It didn't have to be too nice.
A bigger problem, however, was that of lore. Favreau and Filoni did not want the mystery of Yoda to be revealed: even today the character does not have a certain origin. Grogu could risk ruining everyone's beloved Jedi master. Kathleen Kennedy, head of Lucasfilm, said that "It has us stuck for a while. [Jon Favreau] and Dave [Filoni] argued quite fiercely."
Add to this the fact that, historically, the new "cute" characters of Star Wars have not always been loved. Jar Jar Binks, for example, was designed as a fun character for kids, but was hated right away. The Ewoks, from the original trilogy, weren't exactly loved by everyone even at the time. Grogu, fortunately, was a great success.
Looking to
the future of
the saga and precisely to Star Wars Ahsoka, we know that production of the series has begun.
Source Have you noticed any errors?
---
'The Mandalorian' Crew's Biggest Worry About Baby Yoda Seems Kind Of Ridiculous Now
Grogu, otherwise known as Baby Yoda, is a beloved character in the 'Star Wars' universe.
Jody Cortes via Getty Images
One of the internet's favorite creatures could have never seen the light of day.
Baby Yoda, whose real name is Grogu, came with an initial question mark for "The Mandalorian" executive producer Dave Filoni. He told Vanity Fair that the Disney+ series' crew was "very cautious" at first about the decision to keep the character in the "Star Wars" series.
"Honestly, it's something I never would've done because Yoda is Yoda," Filoni said. "I think people now look back and think it was like a slam dunk, but we were very cautious. The amount of measuring, especially in the first season, for how we were framing this kid took a lot of effort."
Baby Yoda was depicted in balloon form at last year's Macy's Thanksgiving Day Parade.
Alexi Rosenfeld via Getty Images
Beyond the debate over Baby Yoda's inclusion in "The Mandalorian," series creator and executive producer Jon Favreau showed "off-putting" concepts of the character to the magazine. There were different looks for the character until "one that finally clicked."
"He had kind of a goofy, ugly look," Favreau said. "We didn't want him too cute."
The two producers aren't the only people to raise questions about the character.
(Caution: Spoilers ahead.)