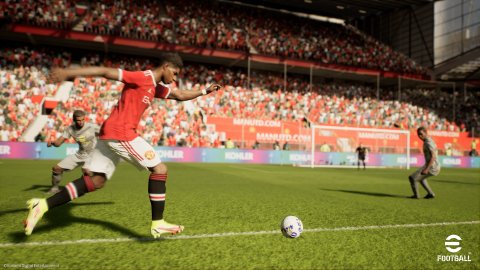 Konami registers the Pro Powerful Soccer brand
Konami a few days ago registered the trademark "Pro Powerful Soccer", thus suggesting a possible new game that marks an evolution compared to e
Football
(the former PES) or something completely different.
The trademark has been registered on the EUIPO website, or the European Union Intellectual Property Office, on 11 March 2022. The page does not reveal significant details about the nature of the game, which has been registered under the categories of electronic gaming software and "gaming services", that is a set of online services, which could very well indicate a traditional multiplayer as well as an online platform in the style of Gaas.
The EUIPO page with the Pro Powerful Soccer trademark registered by Konami However, what's really interesting is the name itself. Pro Powerful Soccer in fact has a certain resemblance to Pro Evolution Soccer (PES, for friends) and therefore could indicate a new name change for the series, now known as eFootball. Or a sort of "spin-off", perhaps based on five-a-side football or with unconventional game dynamics.
To know for sure, we just have to wait for official news from Konami. However, in the meantime nothing prevents us from playing with fantasy, so we ask you: what do you think it could be?
Source Have you noticed any errors?
---
SNES Games of All Time
You can't get too deep into digging up memories of the 16-bit era before you unearth the age's most amazing annelid, the mutated, cyber-suited superhero Earthworm Jim. His debut was the stuff of perception-altering legend, as his game was filled with off-the-wall environments, mind-bending music and enemies with really, really odd names. Psy-Crow. Professor Monkey-for-a-Head. Queen Pulsating, Bloated, Festering, Sweaty, Pus-filled, Malformed, Slug-for-a-Butt. Seriously, that was the main villain. They really don't make 'em like Jim any more, and though subsequent generations have tried to revive him, it's always been with limited success – his unique brand of oddness was just more at home back in the oddball '90s.