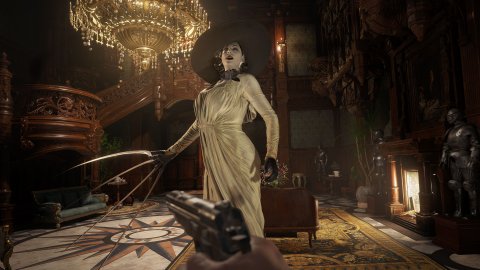 Resident Evil Village was much more difficult at first
Resident Evil Village
was released in early May 2021 and was an instant hit. With three million copies sold at D1, the adventures of Ethan Winters have certainly convinced players. However, things could have gone differently, as the game was initially planned to be much more difficult, so difficult it could be annoying.
A video-diary dedicated to the Creation of Resident Evil Village released by Capcom reveals it. . The development team encountered various difficulties in the final stages of development. The game initially featured a lot more enemies, who would also be a lot more aggressive. Ammo was also much scarcer.
Shutaro Kobayashi, Quality Assurance Manager at Capcom, explains that "The content of the game was completely different from what the team thought they had created." This feedback created panic within the development team as the release was approaching and as they were proud of their accomplishments. Kobayashi also explains that the team met with the most important QA testers to understand what had to be changed.
The team wanted the heart of the game to be "the struggle for survival" and ultimately limited the number of enemies of Resident Evil Village. The team decided not to scare the player by forcing him to face multiple aggressive opponents, but decided to make him paranoid about when and how the enemies would appear.
After making this decision, all the pieces fit together and the team was able to change what needed to be changed within Resident Evil Village. The result is what you've had (or will have) played.
In fact, Resident Evil Village is nearly perfect for Famitsu's ratings. Our review is also more than positive.
Source Have you noticed any errors?