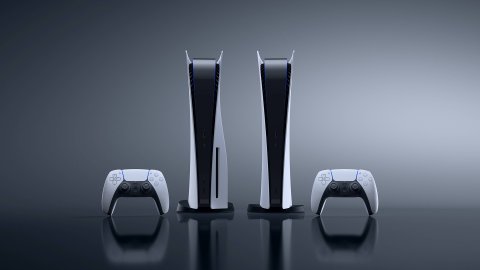 PS5
PS5
is obviously at the center of
Sony
's programs for the next three years, based on what emerged from the recent meeting of the company, which is evident from the investments announced in the production of exclusives, in the technology behind PlayStation VR and in series adaptations.
PS4 and PS5
in movies and TV series.
Starting from the first question, Sony's Shuhei Yoshida has confirmed the aggressive investments in the first party teams that are part of PlayStation Studios, but also continuing to invest in relations with third parties party, probably through exclusive agreements: "We are working to bring content to the community of players, strengthening our relationships with third party teams and developers, as well as investing in development on our first parties and enriching them with new talent".
PlayStation Studios and PS5 are at the center of Sony's investments in the next three years From a technological point of view, great attention seems aimed at PlayStation VR, but this is only one component of the entertainment solutions planned for PS5, considered the "new milestone we have reached in the space of experiential technology" by Yoshida. In particular, great attention will be paid to virtual reality.
"Our most recent milestone in the space of experiential technology is PlayStation 5. We have integrated different technologies into the console including audio, graphics and haptic feedback through the controller, all things that allow users to enhance the gaming experience with a sense of reality and in an immersive way, "said Yoshida.
" The next challenge in this area is virtual reality: leveraging the knowledge we have achieved with PS VR, we plan to incorporate the latest in sensor and detection technology into our next generation headset. "
Finally, Sony CEO Kenichiro Yoshida spoke of the investments made in PlayStation Productions, which will bring several transpositions from video games to films and TV series: "We also built PlayStation Productions. film and television production team, is carrying out productions that transform video game series into movies and television shows. The Hit PlayStation Uncharted is currently in production as a film and we are implementing other projects, including collaborations with Sony Pictures and Sony Music, to maximize the value of our intellectual properties ". Apparently, there are currently at least 10 productions in progress between films and TV series based on PlayStation video games.
Among other things that emerged from the conference is the collaboration with Sony AI for video games, the PlayStation IPs on mobile and social media and heavy investments in subscription services.
Source Have you noticed any errors?
---
PS5 Restock Update for Walmart, Newegg, Amazon, Target, Best Buy and More
Walmart released a surprise restock of PlayStation 5 on Wednesday, but supplies at Newegg have dried up.
At the time of writing, the Disc Version of the PS5 is available online at Walmart, which had last restocked its supplies last Thursday. Sony's next-gen console, meanwhile, is again sold out at Newegg, which released more bundles earlier this week.
Here's a breakdown of the latest PS5 stock information from Target, Amazon, Walmart, GameStop, Antonline, PS Direct, and more.
Read more
PS5 Restock Update for Newegg, Amazon, Target, Best Buy, Walmart and More
PS5 Restock Update for Walmart, Target, Newegg, Best Buy, Amazon and More
PS5 Restock Update for Walmart, PS Direct, Newegg, Target, Amazon and More
Amazon PS5 Restock
Amazon is still out of PS5 after last restocking its supplies earlier in May. A message on the retailer's website states Amazon does not know when, or if, the console will be back in stock.
Check PS5 restock at Amazon.
Antonline PS5 Restock
The PlayStation 5 continues to be out stock at Antonline, which last restocked Sony's next-gen console on May 6.
Gamers are advised to monitor the retailer's social media channels, as Antonline has tended to announce its restocks on Twitter in the past.
Check PS5 restock at Antonline.
Best Buy PS5 Restock
The PS5 is not available at Best Buy. The last restock earlier this week sold out in a flash. So far, the retailer hasn't indicated when it will release more units.
Check PS5 restock at Best Buy.
Costco PS5 Restock
The PS5 is still out of stock at Costco, which last restocked the console in April. Following Twitter gaming accounts such as @Wario64 and @GYXdeals is a good way to keep up to date with news about future restocks.
Check PS5 restock at Costco.
GameStop PS5 Restock
The PS5 remains unavailable at GameStop. Its last restock was snapped up last week.
Check PS5 restock at GameStop.
An employee prepares the new Sony PlayStation 5 gaming console for a customer on the first day of its launch, at an electronics shop in Kawasaki, Kanagawa prefecture on November 12, 2020. Charly Triballeau/AFP/Getty ImagesNewegg PS5 Restock
The PS5 is again out of stock at Newegg. The retailer released more bundles on Tuesday, but the limited restock swiftly sold out.
Check PS5 restock at Newegg.
PS Direct PS5 Restock
The PS5 is out of stock at PS Direct. Its latest restock sold out in less than an hour last week. As with other retailers, it is worth following gaming accounts such as @Wario64 and @GYXdeals to remain updated on future restocks.
Check PS restock at PS Direct.
Target PS5 Restock
The PS5 continues to be out of stock at Target, which last restocked supplies on April 28. According to TechRadar, a new restock could land at some point this week, perhaps as soon as Wednesday (May 26).
Check PS5 restock at Target.
Walmart PS5 Restock
The PS5 is back in stock at Walmart at the time of writing, but however is expected to be very limited.
Check PS5 restock at Walmart.
Newsweek has affiliate partnerships. If you make a purchase using our links, we may earn a share of the sale.