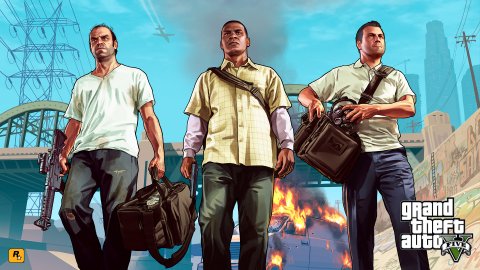 GTA 5 and GTA Online on PS5 and Xbox Series X
GTA 5 and GTA Online finally have an official release date on PS5
and Xbox Series X
| S, with enriched and expanded versions for the next gen coming November 11, 2021, Rockstar Games announced today in an official update. br>
Both Grand Theft Auto V and its multiplayer platform, Grand Theft Auto Online, will therefore arrive in November in the next gen version on PS5 and Xbox Series X, perhaps setting the record for the largest amount of generational versions seen of a single video game, as GTA V was originally released on
PS3
and Xbox 360, relaunched in an improved version
on PS4 and
Xbox One and will also arrive on PS5 and Xbox Series X | S.
GTA 5 is also about to arrive on PS5 and Xbox Series X | S in November 2021 On the other hand, it continues to be one of the best-selling games in the world, so it is not very surprising that Rockstar Games' decision to continue on this path, which it already was. was practically announced iata with the presentation of PS5.
GTA V and GTA Online will present themselves with "new features and more", according to reports from Rockstar Games, which however does not go into the details of the matter, so we can expect certainly improvements to the graphics between resolution and framerate but probably more as well, waiting to learn more.
As an added bonus, the summer updates to GTA Online will include special benefits for players, so you can take advantage immediately at best the improved versions as soon as they are released on the market. Plus, says Rockstar Games, in honor of Grand Theft Auto III's upcoming 20th anniversary, there will be other interesting surprises to share, including some specifically dedicated to GTA Online players.
As previously reported, GTA Online will be free only on PS5 through the exclusive relationship with Sony for the first three months, while the million dollar initiative (in in-game currency) continues every month for
PlayStation
Plus subscribers.
Source Did you notice any errors?
---
GTA 5 and GTA Online: PS5 and Xbox Series X/S Upgrades Coming in November
Summary:
Taking the fundamental concepts of open-world freedom, ambient activity and mission-based gameplay of the Grand Theft Auto series and making them available to multiple players in an incredibly dynamic online world, GTA Online offers the freedom to explore alone or work cooperatively with friends to complete missions.
Franchises:GTA - Grand Theft Auto
Genres:Action
Blood and Gore, Intense Violence, Mature Humor, Nudity, Strong Language, Strong Sexual Content, Use of Drugs and Alcohol, Includes online features that may expose players to unrated user-generated content
Platforms:Xbox 360, PlayStation 3, PlayStation 4, Xbox One, PC, PlayStation 5
Developers:Rockstar North, Rockstar Games
Publishers:Rockstar Games
Release Date:October 1, 2013