Rust Console Edition: video reveals that there may be cross-play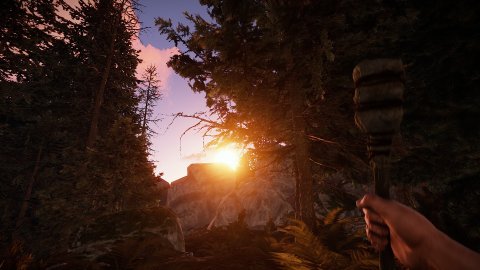 Rust Console Edition
Rust Console Edition will arrive on
PlayStation
4
and Xbox One
(with backward compatibility for
PS5 and Xbox Series
X | S) and will offer the best version of the survival game that has become hugely popular on PC. However, it seems that these two versions will also be able to count on a cross-play function. The information comes from the video that you can find at the beginning of the news.
This new leak would show the beta version of Rust Console Edition. By reaching minute 9 of the video, you can see that the player opens a menu showing which other players have been online and how long they have been alive. As you can see, some players are marked with a controller and others are marked with the Xbox symbol instead. This distinction suggests that cross-play is active.
One possibility is that the controller indicates PS4 players, while the Xbox symbol indicates Xbox (obviously). It is strange though that only the Microsoft gaming machine is marked with an official symbol and that Sony players are classified with a generic logo. A second possibility is that Rust Console Edition is cross-play with the PC version but not with the competing console.
This video is in fact related, as reported, to the Xbox version of Rust Console Edition: the controller would therefore indicate that this is a PC player using a controller. The lack of a keyboard + mouse symbol could also be justified by the fact that cross-play is only allowed with basic PC gamers using a controller, to make sure there are no differences that benefit one or the other category. br>
However, this is pure speculation based on a leak: the developers have not yet released official information on the subject.
Waiting for news
on Rust Console Edition, here is the
official teaser trailer
of the long-awaited survival for PS4 and Xbox One.
Rust Console Edition certainly deserves cross-play Source
---
Rust Console Edition will have PS4 & Xbox crossplay according to leak
Rust is due to launch on consoles later this year and as gamers await more news on the PlayStation and Xbox port, details are starting to trickle out.
According to a new leak – via YouTube channel Fx – there is beta footage of Rust Console Edition out in the wild, confirming that the game will allow online crossplay.
Roughly 9 minutes into the video we see the player bring up a menu listing other users who are currently online and how long their current character has been alive for. What's interesting about this clip is that there are two icons – a gamepad and an Xbox icon – presumably denoting those who are playing on PlayStation 4 (or PS5 via backwards compatibility) and those who are on Xbox platforms.
– ARTICLE CONTINUES BELOW –
Developers Double Eleven and Facepunch Studios have yet to officially reveal crossplay for Rust Console Edition though it seems like a logical feature to add. While the beta footage hasn't been verified, there's a good chance there are closed tests currently underway.
Originally, Rust Console Edition was planned for release in 2020 though Double Eleven made the decision to push it back. Rust will be coming to PS4 and Xbox One in 2021 though we don't have a confirmed release date.
Development complications due to the COVID-19 outbreak are to blame for the delays, the devs making the following statement:
Why have we been so quiet for so long? The world of games dev is a fickle beast; you never have the full picture up front and the development process often becomes more of a journey of discovery when bringing a PC title to console. As much as engaging with players is extremely important, we believe it also has to be meaningful and as we've been working away behind the scenes, we haven't felt ready to share anything with you yet.
As a company in 2020, a year that has brought very challenging times for many, we've felt very fortunate to be able to keep doing what we love. We've always had some remote workers but moving the entire company home to keep everyone safe has presented challenges as we've found new ways to work with each other in the new normal that this year had in store for us.
A new Rust Console Edition gameplay trailer was posted only earlier this week.
Although brief, the teaser does give us a good idea of what content we'll see making the jump from PC to consoles when Rust Console Edition finally launches.
Source: YouTube (via GamingBible)
– PAGE CONTINUES BELOW –