Prime Gaming: Blasphemous among the free games of March 2021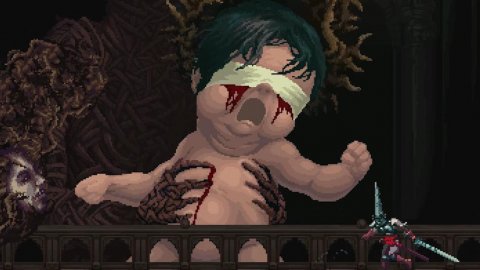 Prime Gaming
Free games available for March 2021, including Blasphemous, for subscribers to Prime Gaming, the service linked to Twitch that rewards its users with many bonus items for the
most played titles
and which gives monthly full games, naturally for PC .
This month's offer is particularly tempting, due to the presence of Blasphemous.
There is also
something interesting among the other titles: Bomber Crew Deluxe Edition, Sky Drift, Boomerang Fu and Tengami.
Considering that Prime Gaming is also obtained with a simple subscription to
Amazon Prime
, there is no it is really what to complain about the gifts.
Just yesterday the Blasphemous software house celebrated the
one million copies
sold with a nice video made by the whole team. Let's also re-read the official description of the game:
A terrible curse has fallen on the land of Cvstodia and its inhabitants - it is known as The Miracle.
Play as the Penitent, the only survivor of the "Silent Pain" massacre. Trapped in an endless cycle of death and rebirth, it is up to you to free the world from this terrible fate and reach the source of your torment.
Explore this agonizing world of twisted religions and discover its many secrets hidden deep inside. Use devastating combos and brutal executions to blast hordes of grotesque monsters and titanic bosses ready to tear you apart. Find and equip relics, rosaries and prayers invoking the powers of the heavens to help you fulfill your mission and break your eternal damnation.
Prime Gaming:
Free
Games for
March 2021
---
Amazon Prime Adds 5 New Free Games For March
Just as it does every month, Amazon has today announced the latest lineup of games that it is giving out to those subscribed to the company's Prime service. Once again, five news games in total are now able to be downloaded and will be available until March wraps up in a few weeks.
As for the slate that is available this month, it's a group of games with quite a bit of variety. The titles include Bomber Crew Deluxe, Blasphemous, Boomerang Fu, SkyDrift, and Tengami. Once you add each to your own library, you'll be able to access them in perpetuity, assuming that you keep an active Amazon Prime subscription. If you ever opt out of the service, you'll then lose access to this slate of games.
While these are the free games available as part of Prime Gaming this month, the service as a whole is constantly offering other goodies related to some of the most notable games around. Some of these extras include skin shards for League of Legends, costumes and crowns for Fall Guys, and even additional XP in Red Dead Online. There are always a number of new offers available on the service, and considering how many games are part of the program, you're almost certain to be able to acquire a new item for a title that you might play. If you want to see the whole list of downloadables, you can head over to Amazon's Prime Gaming hub right here.
So what do you think about this month's free Prime Gaming selections? And are there any games that you would love to see come to the service in April? Be sure to let me know down in the comments or reach out to me on Twitter at @MooreMan12.
Note: If you purchase one of the awesome, independently chosen products featured here, we may earn a small commission from the retailer. Thank you for your support.