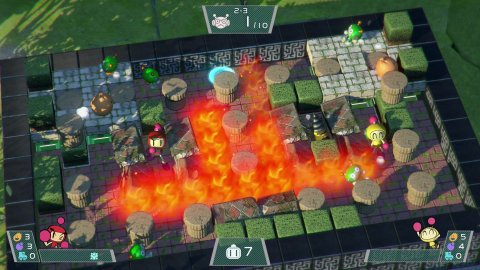 Konami announced that Super Bomberman R has sold more than two million copies across all platforms on which it was launched. If you remember, it was originally an exclusive title
for Nintendo Switch
, part of the console's launch line up (March 2017), but in 2018 it also arrived on
PS4
,
Xbox
One and PC.
It should be specified that we are not talking about Super Bomberman R Online, a battle royale currently only available for Stadia, but also
coming to PC
, Xbox One and PS4.
Given the success of Super Bomberman R, Konami wants to dedicate a commemorative campaign to him, which will soon reveal all the details. Probably in the future there will also be a real sequel, but we specify that this is only our hypothesis.
If you are interested in learning more about the game, read our review of Super Bomberman R, in which Marco Perri wrote:
Super Bomberman R could have been more, but it could have been worse . Honestly said, the feeling is always pleasant, even after so many years. It's that Konami could have put more effort into delivering a more structured and ambitious Story Mode. It could also have further enriched the availability of options available in the creation of multiplayer sessions. Yes, he could do more. But it could also have been a worse product, less refined, less respectful of the legacy and so, fortunately, it is not. We want to think that it is a first return of the historic Bomberman on the shelves and that its future iterations are always justified both at the box office and in the hands of the players of the past. We hope so, come on.
Source