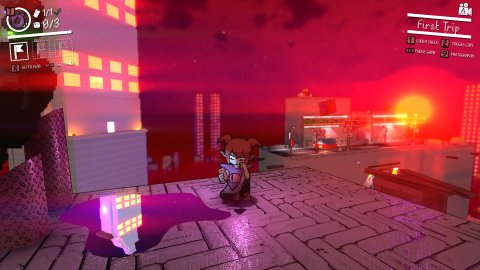 Demon Turf
Demon Turf is perhaps one of the strangest games announced in yesterday's ID @
Xbox
event dedicated to indies, which also put together a lot of bizarre things, being a 3D platformer with 2D elements with a rather crazy setting,
coming to PC
. ,
Xbox Series X
| S, Xbox One and
Nintendo
Switch.
Demon Turf is developed by the indie team Fabraz, authors of Slime-San, and published by Playtonic Friends, the publishing label founded by the Yooka team -Laylee. It is basically a 3D platformer, but built in a very particular way, merging 2D sprites on fully three-dimensional scenarios and different graphic styles mixed together.
The story is no less crazy: the protagonist of the whole is Beebz, a young girl demoness who was commissioned by the Demon King himself to restore order to the demonic world, which has long been crossed by internal wars and clashes between rival gangs, each led by its own boss. The situation is not easy to solve but Beebz is willing to prove his worth and possibly establish himself as Demon Queen with the opportunity.
The characters of Demon Turf are two-dimensional and however move within 3D environments , mixing different styles ranging from realistic to total cartoonish, creating a surreal and comic effect. The humorous tone that pervades everything gives a decidedly playful tone to the hellish world, which looks really hilarious.
Demon Turf is expected in 2021 on PC, Nintendo Switch and Xbox consoles, but it seems to have already been classified for
PS5
, therefore it is highly probable that it will also arrive on this platform, waiting to know the precise release date.
Demon Turf mixes 3D and 2D elements in a particular way to create a strange world
---
Fabraz teams up with Playtonic Friends to summon Demon Turf
Just a few weeks ago, we learned that Yooka-Laylee developers at Playtonic were branching out into the publishing game. Under its new Playtonic Friends label, fans can expect more Yooka-Laylee projects and other games that the team will help push out. The very first game has now been revealed as Fabraz's 3D platformer, Demon Turf.
Previously revealed in June of last year, players will take on the role of Beebz, a young 1,000-year-old demon. In order to claim the throne, she must reclaim the various turfs found around the world. In the end, you must defeat the Demon King. It is an interesting premise, to say the least.
The action will be backed up by its fresh take on the platforming genre. The hybrid 2D/3D art style will definitely have its supporters. The game's humor and punky attitude will also certainly appeal to players.
Fabraz also wants Demon Turf to be replayable and provide an ever-evolving challenge for players. However, talking is easy, which is why the development team is putting its money where its mouth is, so to speak.
Have a taste
Each week, the team is putting out a new experience of Demon Turf on Steam. In addition to the full tutorial and two complete main levels of the full game, there are Trials that offer different challenges that players can attempt to best. There are leaderboards to climb, and there is a prize for the best player each week.
If you make it to the top of the Demon Turf leaderboard, you will be immortalized with a personalized portrait in the main game. There is also a limited edition T-shirt for winners as well.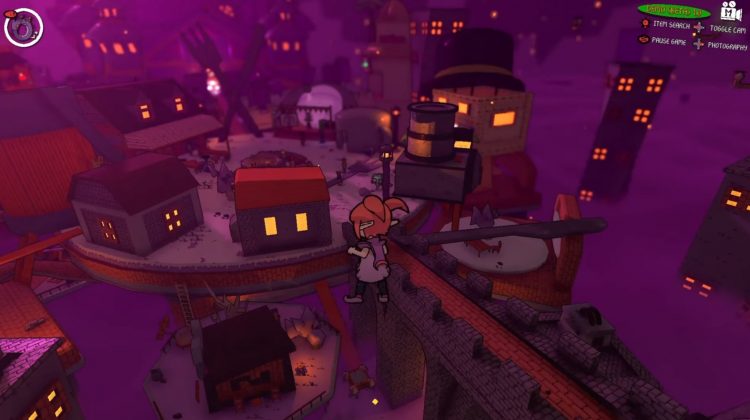 Changing up expectations
Aside from the Trials, Demon Turf does things quite differently from other games in the genre. Fabraz is giving players the freedom to determine how they want to play. Checkpoints are not part of the game. Instead, you get to put them where you want them to be. You could show off your skills by not using any, or have checkpoints prepped for use before a challenging section. Demon Turf even allows you teleport between checkpoints if you happen to miss something.
Completing levels also changes how they function after. In this case, that means players can return to them to discover their liberated state. Expect to see both mechanical and environmental changes that will offer a fresh take.
As for combat, you cannot actually hurt the demons. Rather, you need to count on physics to do that. The system in Demon Turf will let Beebz push, pull, and spin the enemies out of the way and into danger. After all, true rulers keep their hands clean of the actual dirty work when they can.
And if all of that is not enough, Fabraz is promising plenty of side content to chew through. There are 50 specific locations/characters to line the walls of an empty gallery. You can also attempt 25 arena challenges, and 10 Demon Soccer Golf courses that put a twist on ball-pushing puzzles. Lastly, players can collect eight cartridges to unlock remixed throwback levels from 3D platformers of the past.
Demon Turf will make its way to PC via Steam and the Epic Games Store in the summer.