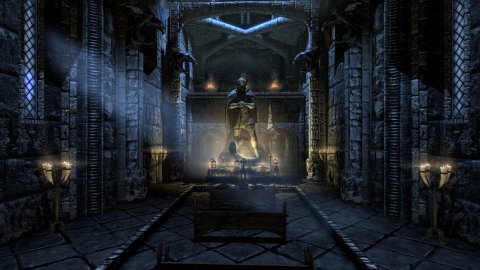 Skyrim
The Blender Animator, a well-known modder, has released a new 8K texture pack for
The Elder Scrolls
V: Skyrim, Bethesda's action RPG released over a decade ago. This pack is about improving cave textures, which players spend a lot of time in.
Please note that this 8K texture pack may not be compatible with other HD texture packs. In theory, it shouldn't cause any problems with those packs that don't include Skyrim cave textures, but obviously as mods there could be compatibility issues not verified by the creators.
These 8K textures are compatible with Skyrim Legacy Edition and Skyrim Special Edition: you can find the two versions at the links just indicated. Here are a couple of images showing the quality of Bethesda's new game textures.
If you are looking for mods that are a bit more particular and you are a fan of both Skyrim and Oblivion, we recommend the ambitious mod Skyblivion which
is shown in
another 15 minutes of video.
Finally, we also point out another very interesting curiosity: the Skyrim skeletons now have a face thanks to the facial reconstruction of Ancestral Whispers.
Source Did you notice any errors?
---
Skyrim Fan Has Created Phenomenal Wooden Masks Based on the Game
If you want some wearable Skyrim masks, this is your chance to pick your favorite from a bunch of amazing hand-made pieces of art.
It's been over a decade since the launch of Bethesda's Skyrim, and the game still has a big active community. Although The Elder Scrolls 6 is in development at the moment, it couldn't stop veteran fans of the franchise from enjoying the huge world of Skyrim, even after all these years.
CHECK THIS OUT: Marvel's Wolverine Will Apparently Begin Mo-Cap Process Soon
To be honest, every developer wishes to find a community for its titles similar to the Skyrim fandom. No matter how many hours you have spent exploring the game's world, there are always things to surprise you!
However, today's story is about a talented fan who has created some real-world goodies based on Skyrim, which you would love to have in your room!
The Elder Scrolls V |
Skyrim Anniversary Edition
Trailer
BridTV
6545
The Elder Scrolls V | Skyrim Anniversary Edition Trailer
https://i.ytimg.com/vi/t-_56Ouy8II/hqdefault.jpg
898265
898265
center
26546
Yesterday, a Redditor, t_sekuloski, shared a post on the Skyrim subreddit, showing off their amazing work in carving wearable Skyrim masks on wood. Honestly, this is something that may only see in thousand-dollar collector's boxes of video games.
Unfortunately, we don't know how many hours the Skyrim fan has spent crafting these things of beauty, but it definitely needs so much effort, talent, and skill to create such detailed masks.
Hopefully, it seems like you can actually buy one of these masks. If you read through the comments of the post, the creator has sent a Direct Message to those who are interested in purchasing one of the masks. So, if you are also a fan of these masks, make sure to post a comment on Reddit.
The Elder Scrolls V: Skyrim is now available on PS4, PS5, Xbox One, Xbox Series X, Xbox Series S, and PC.