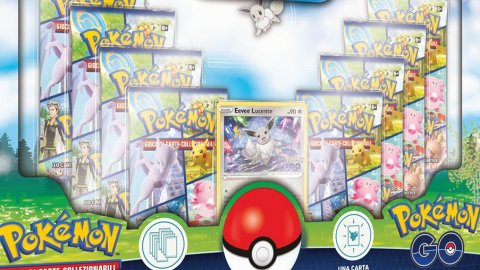 Pokémon Go
The Pokémon Company International today unveiled various details on the new Pokémon GO expansion of the Pokémon Trading Card Game, scheduled to launch worldwide on July 1, 2022.
This is a special collaboration
inspired by
the Niantic game, which also brings with it absolute novelties such as cards with photorealistic illustrations and unique scenarios, which are inspired by the famous game for mobile devices.
In a similar way to the effect given by the use of augmented reality , some cards depict Pokémon within the real world: Pikachu walking with his Trainer, Snorlax sleeping all over the place and more, while other cards depict Pokémon in typical game scenes, such as Blissey heroically defending a Gym and Aipom who dodge a Poké Ball.
In addition,
objects and
characters from the world of Pokémon GO will appear in the form of Trainer cards: Pokéstops, for example, as Stadium cards and decoy modules such as Instrument cards; while Spark from Squad Instinct, Blanche from Squad Wisdom and Candela from Squad Courage will appear as Help cards.
The Pokémon GO expansion of the Pokémon TCG will be available in a variety of products at authorized dealers in around the world, starting July 1, 2022, while others will be published later.
An example of a new "photorealistic" Pokémon TCG card inspired by Pokémon GO These products will feature exclusive cards, including powerful new Pokémon-V and Pokémon-V ASTRO.
This is the list of official products expected with the new Pokémon GO expansion of the Pokémon Trading Card Game:
Pokémon TCG Pokémon GO Star Trainer Set (includes Mewtwo-V foil promo card) Pokémon GO Premium Collection - Pokémon TCG Shiny Eevee (includes Shiny Eevee foil promo card) Pokémon GO Special Collections Pokémon TCG (each collection includes one of three holographic promo cards featuring a full-length illustration of Spark, Blanche, or Candela) Pokémon GO Collection - Pokémon TCG Alola-V Exeggutor (includes an Alola-V Exeggutor foil promo card) Box Pokémon TCG Pokémon GO Collectible (includes a Pikachu foil promo card with the Gift Delivery attack) Pokémon GO Collector Box - Pokémon TCG Poké Ball Pokémon TCG Pokémon GO Collectible Mini Boxes featuring Magikarp, Eevee, Blissey, Pikachu and Snorlax Pokémon TCG V Pokémon GO Battle Deck (includes foil promo card: Mewtwo-V or Melmetal-V) Pokémon TCG GO Battle V Deck mon Mewtwo vs Melmetal (includes two foil promo cards: one from Mewtwo-V and one from Melmetal-V)
Have you noticed any errors?
---
Mega Latias and Mega Latios are coming to Pokémon GO
Mega Latias and Mega Latios are coming to Pokémon GO in May 2022 – a prematurely unlocked video on the game's German YouTube channel has revealed the double debut.
The details of GO Fest 2022 leaked to the press early, data miners knew about the big update to Mega evolutions, and now the official German YouTube channel for Pokémon GO has revealed the introduction of Mega Latias and Mega Latios in May 2022 early. Niantic can't catch a break.
The legendary Pokémon will appear in their Mega evolutions in the game's Mega Raid battles from May 3 to May 10, 2022, and it's quite possible the regular versions will appear in the Tier 5 Raids at the same time. Currently, Shadow Latias is also available as a reward for defeating Rocket boss Giovanni in the game.
Both creatures retain their Dragon and Psychic hybrid typing in their Mega Forms. In the video, you can see that Mega Latias will have 56,399 competition points (CP). Despite the general weakening of Mega Raids in the latest update, this puts the legendary monster on par with the old Mega battles – fitting, considering their status
The debut of the two Pokémon will take place as part of the Air Adventure event, which will probably open up the game's content in May. For now, Mega Kangaskhan can be found in Mega Raids until May 1. May's content has not been revealed at the time of writing.
Written by Marco Wutz on behalf of GLHF.