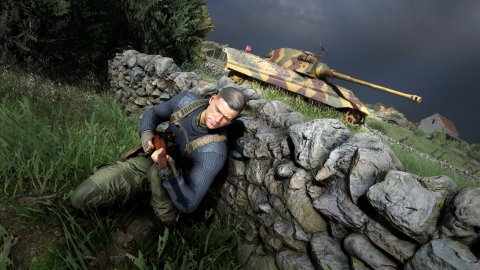 Sniper Elite 5 is in the gold phase, Rebellion announces
Sniper Elite 5, the new chapter of the Rebellion series, has entered the gold phase and will therefore not suffer delays: the game is scheduled to release on May 26 on PC,
PS5
,
PS4
,
Xbox Series X
| S and Xbox One.
Announced last December, Sniper Elite 5 will once again put us in the shoes of sniper Karl Fairburne, engaged in a difficult operation set in 1944 France, in the heat of World War II.
"We are thrilled to announce that Sniper Elite 5 has entered the gold phase," reads the Rebellion post. "Our development teams have done an amazing job and we can't wait for everyone to get their hands on the game starting May 26th."
For this fifth episode the English team talks about an improved exploration system, which should allow a greater degree of interaction with the scenarios and therefore elevate the experience compared to what we saw previously.
"Called to carry out a covert US Ranger operation to weaken the Atlantic Wall fortifications along the Brittany coast, sharpshooter Karl Fairburne makes contact with the French Resistance," reads the official synopsis.
"We soon learn of a secret Nazi project that threatens to end the war before the Allies can invade Europe: Operation Kraken."
Source Did you notice errors?