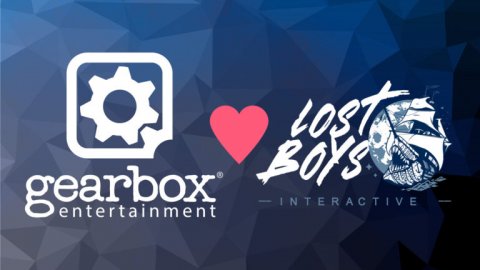 Gearbox has acquired Lost Boys Interactive
Gearbox Entertainment has announced the full acquisition of Lost Boys Interactive for an undisclosed amount. The studio has a staff of around 220 people and contributed to the development of Tiny Tina's Wonderlands.
Lost Boys Interactive is an independent studio formed in 2017 that has worked or co-developed several projects as well as its own IP for PC and console. He contributed to the development of
Call of Duty
, PlayerUnknown's Battlegrounds, WWE 2K22 as well as Tiny Tina's Wonderlands, the Borderlands fantasy spin-off released in late March.
The studio will become a subsidiary of Gearbox Entertainment operating in independently while working with other teams of the company on the development of new projects not yet announced.
Currently the staff of Lost Boys Interactive numbers 220 people, but the studio aims to further expand its staff, reaching more than 350 employees by 2024. With this acquisition, Gearbox has a total of approximately 1,300 employees.
"Lost Boys is an incredible studio with industry-leading talent who continue to push the bar for what gamers expect. from their favorite franchises, "said Randy Pitchford, founder of Gearbox Entertainment. "I am thrilled that Chase, Rod, Shaun, Mark and my old friend Tim, along with all the incredible talent of Lost Boys, are making an immediate and positive impact on the games secretly being developed at Gearbox Software. empower this amazing team to deliver their world-class development services to partners and allies across the broader gaming industry. "
"We founded Lost Boys with a dream of working on products that would be recognized and loved globally," said Shaun Nivens, CEO and co-founder of Lost Boys Interactive. "We are incredibly excited to join Gearbox and continue to do what we do best: create amazing games that entertain and inspire others."
Source Did you notice any errors?
---
Borderlands Studio Buys Call Of Duty, PUBG Co-Developer
Borderlands developer Gearbox Entertainment Company has acquired the developer Lost Boys Interactive, a studio that co-developed Tiny Tina's Wonderlands with Gearbox itself. Lost Boys Interactive has also contributed to the development of major franchises like Call of Duty and PUBG.
In acquiring Lost Boys, Gearbox adds more than 220 employees, bringing its total headcount to around 1,300.
You need a javascript enabled browser to watch videos.
Size:
Want us to remember this setting for all your devices?
Sign up or Sign in now!
Please use a html5 video capable browser to watch videos.
This video has an invalid file format.
Sorry, but you can't access this content!
Please enter your date of birth to view this video
By clicking 'enter', you agree to GameSpot'sTerms of Use and Privacy Policy
enter
Gearbox founder Randy Pitchford said Lost Boys will have an 'immediate and positive impact' on Gearbox and its future products.
Lost Boys was founded in 2017 and is a 'remote-first' company that also has offices in Madison, Wisconsin and Austin, Texas. The studio aims to grow its own staff size to 350 by 2024.
Going forward, Lost Boys will be a subsidiary of Gearbox, which itself is owned by Embracer. Lost Boys will 'operate independently,' Gearbox said, as it works 'in tandem' with Gearbox on new games. Lost Boys' CEO, Shaun Nivens, will report to Gearbox president Steve Jones.
Terms of the deal were not disclosed, but Gearbox confirmed that Juno Capital Partners assisted Gearbox in the buyout as a 'strategic advisor.' Gearbox used Fenwick & West as its legal counsel.
Gearbox's buyout of Lost Boys is just the latest big acquisition of 2022, a year that industry-watchers expect to be among the biggest ever for M&A. Already so far this year, Microsoft announced plans to buy Activision Blizzard, Sony proposed to buy Bungie, and Take-Two is seeking to scoop up Zynga in massive buyouts that could shake up the industry.
GameSpot may get a commission from retail offers.