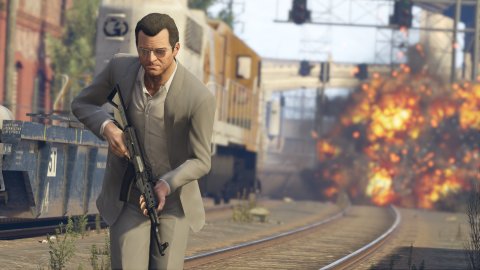 GTA 5
GTA 5 still represents an interesting workbench for graphics changes and new technologies to be applied to achieve a greater level of photorealism, as demonstrated by this rework by Intel Labs.
Researchers have used Grand Theft Auto V to demonstrate the technologies that can be used to increase the photorealism effect starting from standard three-dimensional graphics. It is not really a mod to be distributed, but a real demonstration of the application of some graphic technologies aimed at "improving the realism of synthetic images", as reported by the managers.
The result derives from a series of interconnected improvements that improve the standard rendering pipelines, applying a series of effects and techniques in post processing and going to modify a wide series of elements that characterize the graphic rendering of the game.
The application of these technologies does not foresee an increase in the polygonal size or in the quality of most of the textures, but generates a rather different general effect and closer to realism through modifications made at different levels. remodeled the hue of light and colors, improved visual distance, changed reflections and shadows and increased the volume and color of grass and vegetation. The result is less flashy and bright than the original GTA 5 graphics, but actually closer to photorealism in several respects. You can find a more detailed explanation on the procedure on this page, complete with comparative images.
We recently also saw GTA 5 with more than 1000 mods installed, while on GTA 6 only the rumors remain at the moment , including the one on a new image of the possible map with Vice City.
Source Did you notice any errors?
---
GTA 5 gets an enhanced photorealism makeover – and it looks stunning
Grand Theft Auto 5 may be close to eight years old, but that doesn't mean it can't receive a glow-up or two. A group of researchers at Intel Labs used the classic PC game as part of their paper discussing enhancing photorealism. There's a lot of jargon to get to grips with, but the short story is that what they've done with the game looks incredible.
The team explains that the project's point is to enhance photorealism enhancement, which essentially means they're making something even more realistic than before – in this case, GTA 5. Intel Labs explains that its method modifies images from the game to look more natural. Each image is enhanced "by a convolutional network that leverages intermediate representations produced by conventional rendering pipelines".
Intel Labs further explains that the model it used for the presentation was trained to translate GTA 5's images to the Cityscapes data set, which mainly comprises recordings of German cities captured through an automotive camera.
The footage we get of GTA 5 doesn't look as bright and poppy as you'll be used to, but it's pretty darn realistic.
You can catch the video below to get an oral version of the team's paper. If you fancy giving it a read, though, you can find it right here:
If you're looking for some more GTA 5 mods or GTA 5 cheats, you can find our guides at those links. You can also buy GTA 5 for PC here if you don't have it yet.