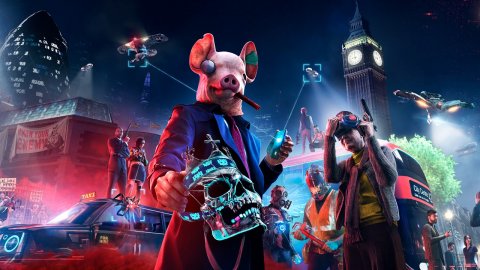 Watch Dogs
Watch Dogs: Legion's Online Mode will see the introduction of cross-play functionality with an update: the game's development team announced it with a post on Twitter.
Currently available on console but postponed to PC, Watch Dogs: Legion's Online Mode boasts great potential and has positively impressed us, as can be read in our tried and tested Watch Dogs: Legion multiplayer.
A cross-play and cross-functionality gen would allow users to compare online on different platforms. The game is in fact available on PC,
PS5
,
PS4
,
Xbox Series X
| S, Xbox One and Google Stadia.
"Although cross-play and cross-generation-play is not currently available for the Online Mode of Watch Dogs: Legion, the development team is working to add this functionality to the game via a future update, "the post reads.
Source
---
When Will Watch Dogs Legion Cross Play Be Available?
March 14, 2021 8:38 AM EST
A few days earlier, Ubisoft Montreal officially released the Online mode for the third installment of the Watch Dogs series. Following this update, there will ba another update in the near future that will add the Watch Dogs Legion Cross Play and Cross Generational features to the game.
Recently, Ubisoft officially launched the Watch Dogs Legion Online mode on some of the game's current platforms, with some others, including PC, receiving it at a later date. As per the developer, the game will support Cross Play and Cross Generational Play on every platform. The former means console and PC players can play with/against each other on the same servers, while the latter means PS4/Xbox One players can play with/against PS5/Xbox Series X|S players.
Below, you can check out the official response from Watch Dogs Legion's Twitter account to one of the fans asking about the cross generational play feature:
While the release date of the online mode on PC is yet to be revealed, there's obviously no release window for the Watch Dogs Legion Cross Play update as well. The PC version was supposed to launch on March 9, but a technical issue with some GPUs forced developers to push it back.
The online mode in Watch Dogs Legion allows up to four players to team up and take part in special co-op missions built for the online mode. They can also start playing PvP matches against other players. For the time being, you might not find enough content for playing with your friends, but Ubisoft Montreal has promised to add more missions and activities to the online section of the game, including an upcoming Tactical Ops mission on March 23.
Watch Dogs Legion is currently available on PS4, PS5, Xbox One, Xbox Series X, Xbox Series S, and PC.