Microsoft Ignite 2021: Teams Connect and other news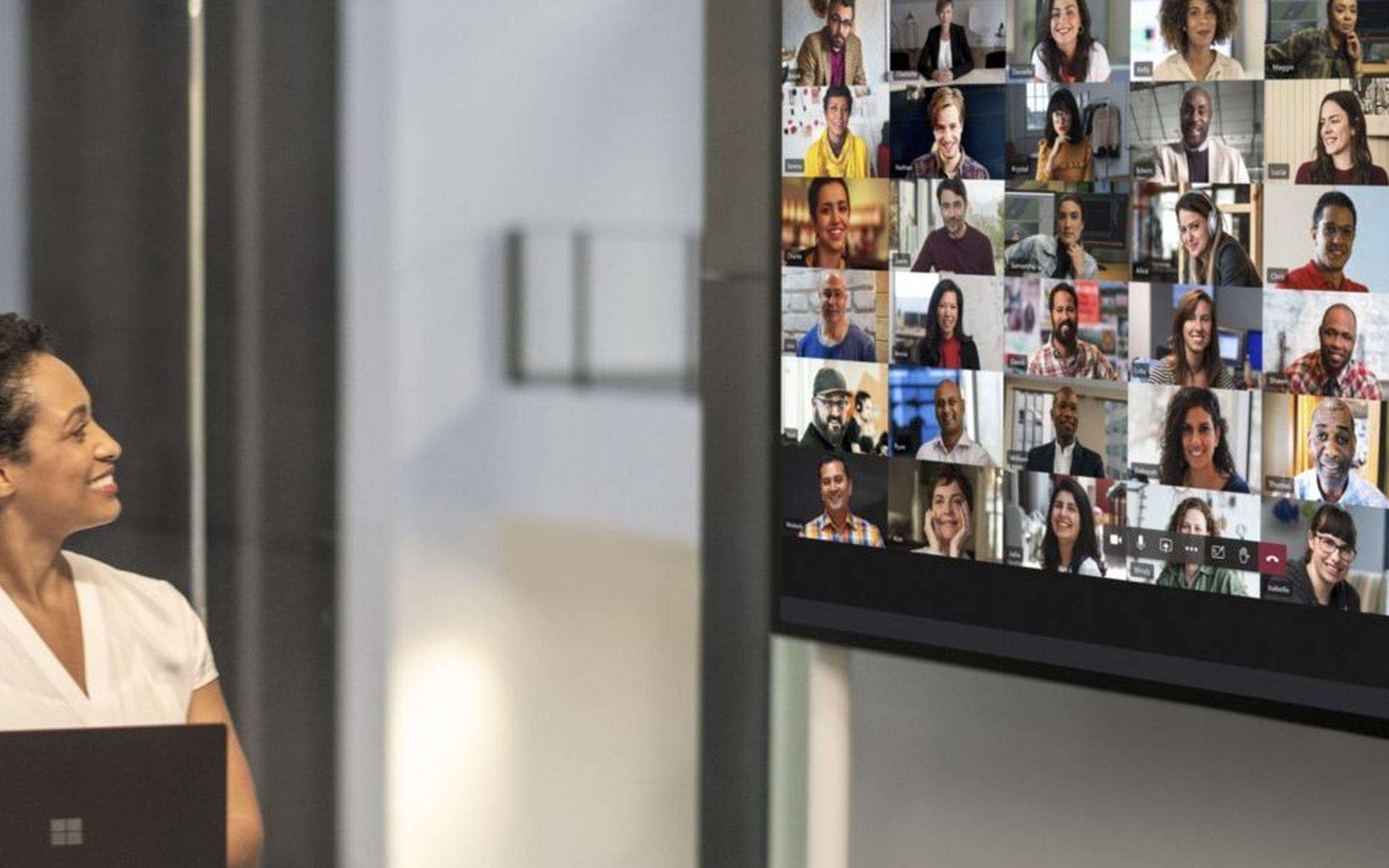 Microsoft Ignite 2021
Microsoft
presented during the Ignite 2021 conference many innovations for the "hybrid" world of work, in which interaction between colleagues also takes place through cloud services. One of the most important is undoubtedly Teams, for which the Redmond company has presented new features that improve remote collaboration and ensure maximum communication security.
Teams Connect is the new feature, currently in private preview, which allows the company to collaborate with customers, partners and suppliers through shared channels. In the shared workspace, you can use traditional Teams features, such as chat, meetings and co-authoring of documents in real time.
Admins have complete control over shared channels, so they can decide who can join and which data to allow access. Teams Connect
will be available
to Microsoft 365 suite subscribers in the coming months.
As for meetings, Microsoft has introduced PowerPoint Live and Presenter Mode features. The new Dynamic View automatically customizes the window layout, optimally positioning the various elements. A new view, on the other hand, allows you to tile images from two screens. Another novelty are the Teams Intelligent Speakers.
Microsoft also announced new privacy and security features. The most important is the support of end-to-
end encryption for
one-to-one calls. We will also introduce controls for meetings by invitation, the ability to disable video and multigeo support for Teams which allows companies to have more control over the location of the data centers used to hold data. The Microsoft Viva platform will finally be available.
Source: Microsoft
---
Microsoft Checks Off Dozens of GA Announcements at Ignite
Microsoft Checks Off Dozens of GA Announcements at Ignite
Microsoft announced more than three dozen 'general availability' service and feature releases at Ignite on Tuesday, including products that are very near GA (that is, they have been deemed stable and tested enough for a supported production deployment). Here are the key general availability announcements from Microsoft this week:
TeamsMicrosoft Teams is a countercyclical. In a year of widespread lockdowns, the remote worker-enabling capabilities of Teams have been critical for organizations worldwide. In his Ignite keynote, CEO Satya Nadella indicated Microsoft is investing in Teams with the expectation that it will continue to be important even as the pandemic abates.
'As the world recovers, there's no going back. Employee expectations are changing and flexibility will be key. And that's why we're building Microsoft Teams as an organizing layer for all the ways we work -- the modes of communication, collaboration and the ability to extend it with other apps and services,' Nadella said.
More than a quarter of Microsoft's big GA announcements this week involved Teams:
PowerPoint Live in Teams makes sharing slides richer on both sides. Presenters can view notes, slides, meeting chat and participants in a single view. On the viewing side, attendees will have more control over their experience with the ability to move through the slides at their own pace, independently of the speaker, and with a high-contrast mode for accessibility.
Presenter mode in Teams gives presenters options for customizing how their video feed and content appear. The first Presenter mode option, becoming available this month, is Standout, showing the speaker's video in front of shared content. Coming options include Reporter, which puts content above the speaker's shoulder, apparently like a news anchor's display, and Side-by-Side, where the video feed is next to the presenter's content.
Dynamic view has to do with the automatic arrangement of meeting elements, informed by the user base's experience over the past year. For example, presenters can now place the participant gallery on top of the meeting, helping to approximate a more natural eye contact with audience members. GA is slated for this month.
Teams Rooms now also has new gallery views, which include a Together Mode and a large gallery view.
Invite-only meetings controls are a security feature of Teams that will be generally available this month. It's designed to prevent the Teams equivalent of Zoombombing.
Large-scale Teams meeting capabilities will be available later this month. The capacity of view-only broadcast meetings will increase from the current 10,000-person limit to a 20,000-person limit. That particular bump may be reduced again later. Microsoft materials note that the increase is to accommodate 'this time of increased remote work' and that it is 'available through the end of this year.' Also rolling out this month are large-scale interactive customer webinars for up to 1,000 attendees. Those events support custom registration and other options.
Teams webinars are now available as part of Dynamics 365 Marketing campaigns
The Microsoft Viva employee experience platform was announced in February with four modules: Viva Connections, Viva Learning, Viva Insights and Viva Topics. The Teams desktop experience of Viva Connections hits GA this month. That component allows companies to provide a curated experience of news, conversations and other resources for their employees.
Viva Topics, which is supposed to automatically organize content and contacts across an organization, is also generally available as a Teams add-on for Microsoft 365 customers.
Microsoft 365Microsoft highlighted a few GA features of its strategic Microsoft 365 cloud at Ignite.
Attack Simulation Training reached general availability on Jan. 6, but remained one of the most important GA highlights at Ignite, two months later. A critical and useful component of organizations' defense against phishing and ransomware, Attack Simulation Training  is part of Microsoft Defender for Office 365. Using neutralized versions of real attacks, the tool simulates attacks to detect risky user behavior and provides reporting on training progress.
A slew of updates are now generally available for the Microsoft 365 Office Apps admin center, including device servicing profiles, inventory and security update statuses, reliability and performance trend reporting, reliability advisories, diagnostic coverage, integration with the Service Health Dashboard, skip capabilities and rollback capabilities.
AzureThe bulk of the general availability news from Ignite involved various Azure services.
Azure Sentinel, Microsoft's security information event management (SIEM) service, is newly enhanced with more than 30 new, built-in connectors covering Microsoft Dynamics, Salesforce Service Cloud, VMware and Cisco Umbrella; new security orchestration automated response (SOAR) playbooks; data ingestion improvements; and improvements in analytics.
Role-based access control is now available for Azure Machine Learning.
Azure Stream Analytics is now generally available with support for single-tenant dedicated clusters.
Azure Cache for Redis, the open source, in-memory data store, now has two additional tiers -- Enterprise and Enterprise Flash.
Azure Resource Mover, which Microsoft bills as unique to the Azure platform, is a new capability that allows organizations to migrate their applications from one Azure region to another once a new region is launched or to take advantage of region with availability zones.
Azure Communication Services, a new 'fully managed communication platform' for integrating voice, video, text and data communication, is now generally available after a preview period that started in September. Rounding out the many business-to-consumer use cases are new preview integrations with Teams intended to allow customers to connect directly with employees.
The Private Azure Marketplace service, which allows an organization to limit which third-party solutions their users can find and install from the broader Azure Marketplace, is generally available.
Connecting, managing and governing Kubernetes clusters on-premises and across multiple clouds is now available through the Azure Arc management service.
The Backup Center is generally available with support for centralized backup management of Azure Virtual Machines, SQL in Azure Virtual Machines, HANA in Azure VMs and Azure Files.
A mixed reality-related service, Azure Remote Rendering, is generally available for performing the compute-intensive rendering of complex models in the cloud and then streaming them in real-time to devices, such as HoloLens 2.
In the next few weeks, Microsoft will make Azure Monitor for Windows Virtual Desktop generally available, allowing organizations to view summary data of a host pool, find and troubleshoot problems in a deployment, view utilization data and gather relevant information for decisions on scaling and cost management.
Azure Active Directory (Azure AD)
Passwordless authentication is now supported in Azure AD. Under the functionality, employees can sign in with Windows Hello for Business, the Microsoft Authenticator app or compatible FIDO2 security keys.
Header-based authentication apps can now natively connect to Azure AD with general availability of support for header-based authentication in Azure AD Application Proxy.
Azure AD External Identities, allowing Azure AD access for an organization's customers and partners, will be generally available later this month after a public preview that launched in May 2020. The first 50,000 monthly active users of External Identities are free at any tier.
Two enterprise app management updates for Azure AD will hit general availability later in March. The Application Template API for Azure AD within Microsoft Graph gives organizations a way to programmatically manage applications in the Azure AD app gallery. The Admin Consent Workflow for Azure AD is a slick feature that adds a request to the administrator to the sign-in flow when a user tries to access an application that requires admin approval.
Azure Networking
A deep set of load balancing options are being added to general availability for Azure Networking this month. Those include a guided experience for selecting the right load-balancing approach, load balancing across IP addresses and other features.
An Azure Public IP SKU upgrade is a back-end change that allows a customer to upgrade from the Basic SKU to the Standard SKU of Azure Public IP without having to change the public IP address.
Customers can take control of the way their traffic is routed between Azure and Internet with Azure Networking routing preference, optimizing for performance or cost. The options are referred to colorfully as 'cold potato routing' and 'hot potato routing.'
A related GA capability involves an Azure hybrid networking feature. Microsoft now offers an ExpressRoute Portal within the Azure Portal with more complete peering and Global Reach configuration settings.
Azure Spring Cloud Azure Spring Cloud is a service for developers of Spring Boot-based Java applications that is intended to take away various infrastructure maintenance concerns. Microsoft launched Spring Cloud as a preview in 2019 with Pivotal Software, and made it generally available in September with Pivotal's now corporate parent, VMware. One of the newly GA features this week is a Managed Virtual Network for deploying Azure Spring Cloud for customers needing extra security. The other GA feature is Autoscale for Spring Cloud.
Microsoft also announced this week that Azure Spring Cloud is now available in seven more Azure regions, for a total of 18.
Azure Cosmos DBAzure Cosmos DB got two significant feature additions at Ignite. One is an Azure Synapse Link. Microsoft bills the ability to run cloud-native and near-real-time analytics over the NoSQL data in Azure Cosmos DB as breaking down a barrier between OLTP and OLAP systems.
Other
Visual Studio 2019 version 16.9 is out the door. Highlights include Git tooling, C++ development enhancements, .NET productivity enhancements, Web tooling and XAML productivity enhancements. A version 16.10, meanwhile, reached the preview stage.
The cloud-based print technology, Universal Print, is designed for printing without print servers or printer drivers and to work in zero-trust environments. It allows printing from Windows devices to Azure AD-registered printers and from a browser using OneDrive for Business. Print manufacturers supporting Universal Print include Brother, Canon, HP, Konica Minolta, Lexmark, Toshiba, Ricoh and Xerox.
Posted by Scott Bekker on 03/02/2021 at 4:52 PM