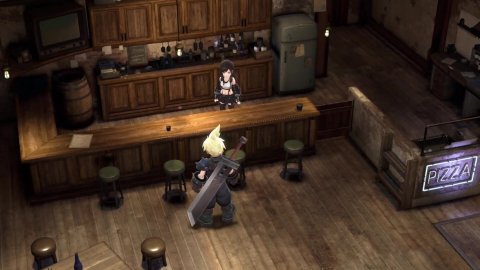 Final Fantasy 7 Ever Crisis
The insider Nibel, usually very reliable, reported some information on
Final Fantasy 7
Ever Crisis taken from the Japanese magazine Famitsu that will alarm not a little those who were waiting for the game, especially the one that binds weapons and prize boxes. Consider that the source is Tetsuya Nomura himself, so they are to be considered official.
The most relevant is that the chapters from which the game is composed will be free, while the weapons will be given through prize boxes. So exploring and defeating enemies will not find weapons, as was the case in the original Final Fantasy 7, but you will have to rely on luck and microtransactions for more powerful ones.
The other information is less alarming: Final Fantasy 7 Ever Crisis will divide the story of Final Fantasy 7 into ten chapters; there will be content that was not present in the original and the facts told in Final Fantasy VII The First Soldier will also be addressed.
What can I say? Honestly, we don't like the idea of ​​seeing Final Fantasy VII embrace a predatory monetization system like prize funds, but we'll see what comes out of it.
---
Final Fantasy 7: Ever Crisis Will Have Gacha System for Weapons
Job system also confirmed for Final Fantasy 7: The First Soldier.
Along with revealing new details on Final Fantasy 7 Remake Intergrade, creative director Tetsuya Nomura also talked more about the upcoming Final Fantasy 7 mobile titles. In an interview with Famitsu (translation by Nibellion), he confirmed that Final Fantasy 7: Ever Crisis – which remakes the entire compilation – would have free story chapters. There will also be content not present in the original release, though for which property isn't clear.
Furthermore, you can expect to tackle the story of Final Fantasy 7 across 10 chapters in Ever Crisis. The catch is that a gacha system will be present for weapons (which likely means having to roll for higher rarities, both with in-game and premium currency). It will also "tackle" the story of Final Fantasy 7: The First Soldier, the upcoming battle royale title.
Nomura spoke a bit more about The First Soldier and noted that it was an "attempt" to reach audiences that weren't close with the Final Fantasy brand. Currently, it's aiming to provide a "solid experience" and "amazing visuals" for smartphone users. Summons and melee combos have already been confirmed but there will also be a Job system with different skills.
Final Fantasy 7: Ever Crisis is slated to release next year while Final Fantasy 7: The First Soldier is out this year. Both titles will be coming to iOS and Android.