Dota: Dragon's Blood, the Netflix series has a new presentation trailer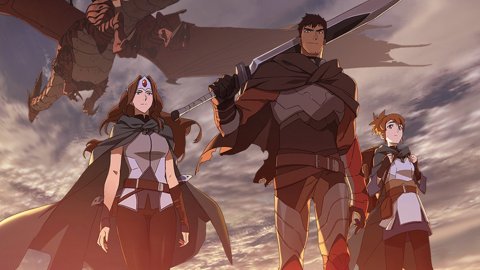 Dota
Dota: Dragon's Blood, the new animated series from Netflix,
is shown in
these hours with a new official presentation trailer that you can see above and makes a brief narrative overview on the setting, the story and the characters of the series. >
The famous videogame series Valve thus becomes an anime with this new initiative in collaboration with Netflix, which will also enjoy the Italian dubbing in our country, so that it can also be seen fully adapted and localized.
In the trailer we can see something of the story that will be staged with the Dota: Dragon's Blood series, which incorporates various elements from the well-established mythology of the world of
DoTA 2
. The studio responsible for the production is Studio MIR, or the Korean animators who previously also dealt with
The Legend of
Korra, Voltron: Legendary Defender and the upcoming The Witcher: Nightmare of the Wolf.
The showrunner and executive producer in charge is Edward Miller (X-Men: First Class, Thor and Black Sails), flanked by Ryu Ki Hyun. Eight episodes are planned for the first season, with the story centering on Davion, a Dragon Knight whose encounter with Princess Mirana will catapult him into a series of events much bigger than him, with unimaginable implications.
Based on the schedule of new films
and TV series
arriving in March 2021, we know that the first season of Dota: Dragon's Blood will be visible in Italy starting March 25, 2021, so the appointment is for that day.
Dota: Dragon's Blood is the Netflix animated series focused on the Valve series
---
'Dota: Dragon's Blood' trailer gives a clearer view of Netflix's new anime series
It's only been a couple of weeks Netflix and Valve revealed a teaser trailer for the anime series based on Valve's hit game Dota 2, but now they're back with a longer trailer showing off more of the characters and story elements. As we'd heard, the story will follow Dragon Knight Davion who is doing his dragon-hunting job before becoming 'embroiled in events much larger than he could have ever imagined.'
© Netflix Dota: Dragon's Blood
The tagline is 'Do you know whom you serve?' so some twists and back stabbing will be in order at some point. Book 1 ofDota: Dragon's Blood will make its Netflix debut later this month on March 25th.