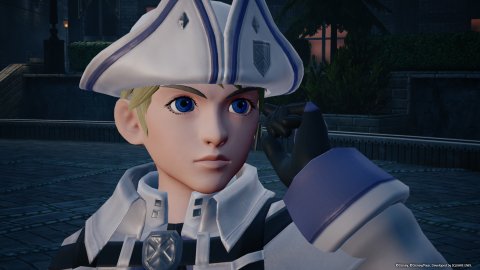 Kingdom Hearts
During the
Kingdom Hearts 20th anniversary
event, a new mobile game called Kingdom Hearts: Missing Link was also announced, as well as the final chapter of Kingdom Hearts Dark Road also on these platforms, visible in the extended trailer above. >
The most prominent news is obviously the announcement of Kingdom Hearts 4, of course, announced with a first trailer with gameplay and also with the first images and details on the game, but these initiatives by Square Enix should not be underestimated, considering the large audience they target.
There are no precise release dates yet, but Kingdom Hearts: Missing Link will have a beta test period expected by the end of 2022, while the latest chapter of Kingdom Hearts: Dark Road is expected in August, as a free update of the mobile title.
According to reports from Square Enix, Kingdom Hearts: Missing Link is "an all new game for iOS and Android, which allows players to embark on adventures from the realms of Scala and Caelum, in the real world ", reads the press release, taking part in" exhilarating battles against the Heartless and discovering a new original story ". The closed beta is scheduled for the next few months, pending further details.
Have you noticed any errors?
---
'Kingdom Hearts IV' Has Been Announced And Returns To Tokyo
'Kingdom Hearts IV' looks like it is based in Shibuya, Tokyo.
Square Enix
As part of the 20th anniversary event for Kingdom Hearts, which just makes me feel really old, we had announcements for some new games. The main one being that of Kingdom Hearts IV.
In addition to Kingdom Hearts IV, we also have two new smartphone games on the way, namely that of Kingdom Hearts Missing-Link and Kingdom Hearts Dark Road. The former will have a closed beta test toward the end of this year and the later will be the final story instalment.
As for Kingdom Hearts IV, this will be part of the Lost Master Arc and features Strelitzia who introduces Sora to the world of Quadtratum, which is in fact Shibuya, Tokyo.
Specifically, the game's trailer (shown below) has a giant monster appear in-between two of the largest buildings in Shibuya, that of Shibuya Scramble Square and Shibuya Hikarie (shown above). One section of the trailer even has Sora slide down the connecting bridge between the two buildings.
As I live not far from Shibuya, seeing Sora taking on giant monsters in place I visit regularly is both a bit strange and rather amazing.
As for the engine running Kingdom Hearts IV, my guess is that it is Unreal Engine (most likely Unreal Engine 5). If this is the case, the good news is that much of the delays that plagued Kingdom Hearts III should be less of an issue, as that game used Unreal Engine 4 and the team will be used to the toolset by now.
In any case, we have a new mainline Kingdom Hearts game to look forward to and that's entirely fantastic, not least because Sora seems doing his thing in Shibuya of all places.
Follow me on Twitter, Facebook and YouTube. I also manage Mecha Damashii and do toy reviews over at hobbylink.tv.
Read my Forbes blog here.