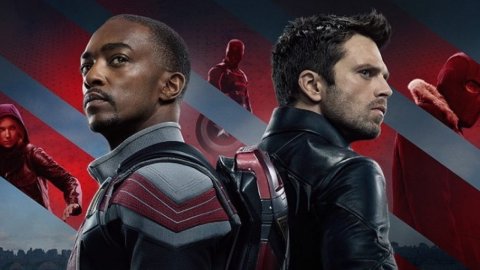 Falcon and the Winter Soldier
Falcon and the Winter Soldier, the new
Marvel
series coming soon to the Disney + streaming platform, shows itself with two new videos that shed light on the relationship between the two protagonists of the show. the rivalry between the characters played by Anthony Mackie (recently seen in the new
Xbox Series X
| S commercial) and Sebastian Stan to hold the bench for most of the episodes, as these clips demonstrate.
In the first movie at the head of the news, Sam and Bucky discuss wizards and the fact that they really exist, as Doctor Strange seems to demonstrate; while in the second, below, we discover the idea of ​​Falcon's briefing.
Made up of six episodes, which will be serialized on Disney Plus starting from March 19th, Falcon and the Winter Soldier will tell how the two heroes have evolved after the events of Avengers: Endgame.
In particular, Sam Wilson will have to prove that he is worthy to wear the uniform of Captain America and to use the iconic shield wielded by Steve Rogers for many years .
---
'The Falcon and The Winter Soldier' Primer: Where We Last Left Off with Zemo
When Captain America, along with Bucky, and Iron Man arrived, Zemo played security footage from a 1991 mission for the three heroes. The footage revealed Bucky, during his brainwashed time as the Winter Soldier, murdered Tony's parents, Howard and Maria Stark. Outraged, not only by the revelation but by the betrayal that Steve knew and never told him, Tony attacked both of them.
Zemo, having seen the implosion of the Avengers as a team first-hand, once again evaded capture. He attempted to take his own life but failed due to interference of the Black Panther, who wanted him to answer for his crimes—the murder of the King of Wakanda, and his father, T'Chaka during the signing of the Sokovia Accords.
As Zemo sat in the cell initially used for the Winter Soldier, he had a smile on his face. When CIA agent Everett Ross asked him how it felt to fail, Zemo merely replied, "Did I?"
You can see what new plan Zemo has for our heroes when Marvel Studios' The Falcon and The Winter Soldier premieres March 19 on Disney+! 
Marvel Studios' The Falcon and The Winter Soldier, a six-episode series, will start streaming on March 19 on Disney+!
Want more 'The Falcon and The Winter Soldier'? Follow the series on Facebook, Twitter, and Instagram!
Stay tuned to Marvel.com for more details! And be sure to follow Marvel on Facebook, Twitter, and Instagram. 
Looking for more Marvel movies and shows to stream? Check out everything on Disney+, Hulu, and ESPN+ right here, and where to find all your favorite Super Heroes right here. Sign up for Disney+ and start streaming now!