Bethesda: Jeff Grubb confirms Microsoft's post-acquisition event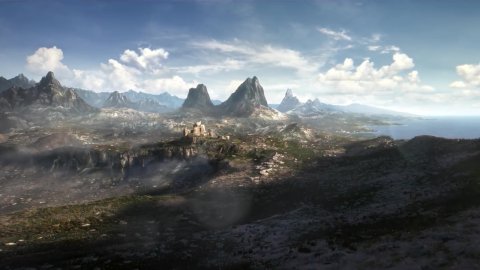 Bethesda
During the last episode of his podcast, journalist Jeff Grubb confirmed that
Microsoft
will soon hold an event dedicated to the acquisition of Bethesda, in which, however, new games should not be announced or release dates of already presented titles should be revealed. We will talk above all about what the acquisition means for the growth of
Xbox
and Xbox Game
Studios and the arrival on
Xbox Game Pass
of the new titles entered in the Microsoft package.
It is interesting that according to Grubb Bethesda will continue to have its own event at E3 2021, probably because it is already largely organized, given that there is actually little left for the fair, and perhaps also due to the fact that Bethesda will inevitably have to show titles such as Deathloop and Ghostwire: Tokyo, two exclusive
PS5
consoles, which on Microsoft's (virtual) stage would not make a good impression.
So in June there should be an Xbox conference and a Bethesda conference, with the latter of course still more than interesting for Xbox users, who could see several exclusives announced, such as Starfield or The Elder Scrolls VI.
Jeff Grubb is known in the industry for having excellent tips from industry insiders, especially people from the Microsoft world, so his information is considered reliable. Of course this does not exclude that what he says should be taken with a grain of salt, pending official confirmation.
Source
---
Microsoft's Bethesda Purchase Approved By SEC
The United States Securities and Exchange Commission (SEC) has approved Microsoft Bethesda purchase, which will make Bethesda and parent company ZeniMax part of the Xbox family. It was one of the last remaining roadblocks to the acquisition finally closing, but Bethesda isn't becoming part of Xbox just yet.
The SEC published a 'notice of effectiveness' for the transaction on its website this week. If you're not familiar with SEC filings, it doesn't exactly mean much on the surface, but this notice is used when the SEC accepts a company's registration. The 'S-4' on the page means this is related to either a merger or an acquisition, and if you go to the related documents for this notice, it lists Microsoft's registration amount as being $7.5 billion. This is the amount agreed upon during the deal last year.
The SEC's approval actually comes as we were expecting to hear word from the European Commission, the other major regulatory body that could put a stop to this deal. It was scheduled to make a ruling by March 5, though it doesn't appear to have made it public yet, assuming the ruling hasn't been outright delayed. Assuming that is approved, it shouldn't be too long before we see the companies working together officially. Microsoft has already created a division called Vault, presumably named after the Fallout series, that will be responsible for Bethesda properties.
That doesn't mean PlayStation fans will be immediately left in the dust, however. The upcoming game Deathloop will actually launch as a PlayStation console exclusive, as the agreement was made prior to the Microsoft acquisition, and Microsoft is honoring that. It will be at least a year before the game comes to Xbox or other platforms. Future games are more up in the air, though it would certainly make sense for big franchises like The Elder Scrolls and Doom to become Microsoft-exclusive in order to draw in more players.
You need a javascript enabled browser to watch videos.
Size:
Want us to remember this setting for all your devices?
Sign up or Sign in now!
Please use a html5 video capable browser to watch videos.
This video has an invalid file format.
Sorry, but you can't access this content!
Please enter your date of birth to view this video
By clicking 'enter', you agree to GameSpot'sTerms of Use and Privacy Policy
enter