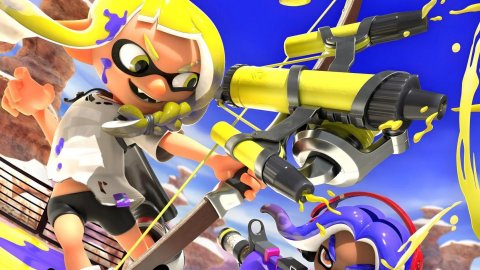 Famitsu's Most Awaited Games Ranking
Like every week, the new ranking of the most desired games by Famitsu readers has arrived, which as usual offers us a glimpse of the tastes of Japanese gamers, usually quite far from Western ones. At the top we find Splatoon 3, which regains first place again, bypassing Final Fantasy 16.
Famitsu's most desired games are listed below:
[NSW] Splatoon 3 - 1,076 votes [
PS5
] Final Fantasy XVI - 943 votes [NSW] Bayonetta 3 - 742 votes [NSW] Dragon Quest X Offline - 721 votes [NSW] Pokemon Scarlet / Violet - 716 votes [NSW] Zelda: Breath of the Wild 2 - 663 votes [ PS5] Final Fantasy VII Rebirth - 516 votes [NSW] Ushiro - 364 votes [NSW] Witch on the Holy Night - 360 votes [PS5] Star Ocean 6 - 313 votes [PS5] Resident Evil 4 - 302 votes [
PS4
] Witch on the Holy Night - 286 votes [PS5] Pragmata - 270 votes [NSW] Dragon Quest Treasures - 233 votes [PS4] Star Ocean 6 - 228 votes [NSW] Harvestella - 223 votes [PS5]
Street Fighter 6
- 207 votes [PS5] Dragon Quest X Offline - 186 votes [PS4] Valkyrie Elysium - 167 votes [PS4] The Legend of Heroes: Kuro no Kiseki II - CRIMSON SiN - 164 votes [NSW] Made in Abyss: Binary Star Falling into Darkness - 159 votes [PS5 ] Crisis Core: Final Fantasy VII Reunion - 143 votes [NSW] NieR: Automata The End of YoRHa Edition - 125 votes [PS4] Dragon Quest X Offline - 122 votes [NSW] Mega Man Battle Network Legacy Collection - 109 votes [PS4] Granblue Fantasy Relink - 106 votes [NSW]
Persona 5 Royal
- 95 votes [NSW] Aquarium - 93 votes [PS5] The Legend of Heroes: Kuro no Kiseki II - CRIMSON SiN - 90 votes [PS5] Valkyrie Elysium - 88 votes
Splatoon 3 returns to the top of Famitsu's most desired games As mentioned at the beginning, Splatoon 3 is first, confirming the great enthusiasm for
Nintendo
's multiplayer "splattatutto", probably accentuated by the news unveiled in recent weeks and the limited time demo that has been available in recent days. In second place we find Final Fantasy 16, with Bayonetta 3 completing the podium in third position.
In general, the highest positions in the ranking of Famitsu readers are dominated by productions for Nintendo Switch, with 7 games out of 10 coming to the handheld console, including Pokémon
Scarlet and Violet
on the fifth and The Legend of Zelda: Breath of the Wild 2 on the sixth. Exceptions are Final Fantasy 16, the PS5 version of Crisis Core:
Final Fantasy 7
Reunion and Star Ocean 6, respectively in seventh and tenth place.
Source Have you noticed any errors?
---
Famitsu - Bing News
Famitsu has published a video interview with Dimps executive vice president of business development Hiroyuki Kawano and engineer Mitsuhiro Tanaka on the newly announced console and PC re-release ...
In the latest of issue of Famitsu, Soul Hackers 2 has been reviewed. The game has received almost a perfect score. The magazine gave Soul Hackers 2 a 9/9/10/10 rating in its review. This rating is ...
Sony is already having a torrid time in its home territory, but it looks like the PS5's price hike could prove the straw that broke the camel's back in its domestic Japan. Like the rest of the world – ...
Nintendo Switch Sports (NS) has taken first place on the retail charts in Japan with sales of 18,668 units, [...] ...