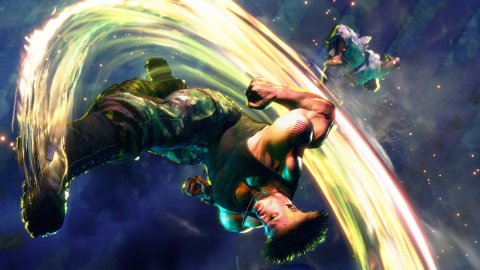 Street Fighter 6
Capcom has confirmed
the return of
the classic versions of Ryu, Chun-Li and Guile in
Street Fighter 6
, posting images showing them in the game. As you can see, the three historical characters wear their traditional costumes, the ones that made them famous and loved by fans of the series.
+1 At the same time, the new costumes of Luke and Jamie were also shown, which follow the new urban style of the game and which will probably appeal to new players especially.
In short, it seems that Capcom wants to please old and new players, trying to renew the look of the Street Fighter series, without however denying its origins. In short, he is giving a little something to everyone, to try not to create discontent.
In fact, some of the latest news had caught fans off guard, such as simplified controls, seen as an easy mode, so much so that the director had to deny it. The same musical theme of Ryu has caused some discussion for how he abandons the canons of the series.
The fact remains that introducing new features is necessary, in order not to block the series in his imagination, now more than thirty years old. years.
For the rest we remind you that Street Fighter 6 is in development for PC,
Xbox Series X
and
S and PS5<
/a>
.
Source Have you noticed any errors?
---
Street Fighter 6: Capcom Reveals Classic Street Fighter 2 Alternate Costumes
Capcom shared a first look at alternate costumes for Street Fighter 6, and some of the outfits are sure to bring a wave of nostalgia to long-time fighting game fans.
As part of the Street Fighter panel at SDCC 2022, Capcom revealed that Ryu, Chun-Li, and Guile are getting DLC costumes that replicate their classic Street Fighter 2 outfits. Chun-Li will be able to do her classic taunt that has hit detection, as well. You can check out the classic designs below.
Street Fighter 6 Gets Classic Street Fighter 2 Costumes
Capcom also showed off Luke wearing streetwear. This version of the character is wearing shoes, which isn't the case for his default costume. Jamie, Luke's rival, also got an alternate costume, complete with a pretty sick chain.
There was no announcement on if this DLC is paid or free. We also don't know if the DLC will be available at launch, or come sometime after. Street Fighter 6 is slated to release next year on PS4, PS5, Xbox Series X|S, and PC.
We got to go hands on with Street Fighter 6 last month at Summer Games Fest, and showcased a full 21 minutes of gameplay. The game was officially announced earlier this year, and will include three new modes, a number of returning modes, and a single-player story mode called World Tour.
There's tons of news for all your favorite shows, films, games, and more coming out of San Diego Comic-Con 2022, and we've got the full schedule to guide you through the weekend of panels, announcements, trailers, and surprises.