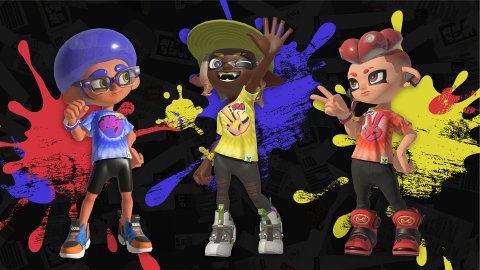 Splatoon 3
Splatoon 3 isn't officially available yet, but
Nintendo
is already finding itself forced to ban some players. As reported by the well-known Nintendo dataminer OatmealDome via Twitter, Splatoon 3's anti-cheat system is blocking players who try to modify the demo, which is already available.
OutamealDome explains that a patch is circulating on the net that allowed players to enter combat arenas early, during the Splatfest demo weekend for Splatoon 3.
Splatoon 2, explains the dataminer, was able to notice the presence of fan-made patches of this type , so it's no surprise that Splatoon 3 is also able to block these attempts. OatmealDome thinks that players weren't particularly smart at trying to do such a thing.
Finally, we remind you that the Splatfest World Premier is underway. Here are all the details about the Splatoon 3 event and demo.
Source Did you notice any errors?
---
Splatoon 3: Release Date, Splatoon OLED and Everything You Need to Know
The colorful Inklings and Octolings return on Nintendo Switch next month with Splatoon 3, a brand-new installment in Nintendo's online shooter series. Like previous entries, Splatoon 3 is a four-versus-four team shooter revolving around inking the most territory, and this time around, the game introduces a wealth of new modes and mechanics to keep the experience feeling fresh, including new special weapons and an expanded solo campaign.
Here's everything you need to know about Splatoon 3, from its release date to how to join the free demo taking place this weekend.
Release date
Splatoon 3 launches exclusively for the Nintendo Switch on Sep. 9. The game is available to preorder now at Amazon, Walmart, GameStop and other retailers.
Free Splatfest demo
Ahead of Splatoon 3's release, Nintendo is holding a free Splatfest World Premiere demo. 
You can download and play the demo now, but for the time being, you can only try a brief gameplay tutorial and walk around the game's hub area, Splatsville. However, on Aug. 27, Nintendo will be holding a Splatfest event, which will let you compete against other players in the game's signature mode, Turf War.
Splatoon Switch OLED
The Nintendo Switch OLED Splatoon 3 Edition is for those looking for a graffiti aesthetic.
Nintendo
Ahead of Splatoon 3, Nintendo has released a Splatoon-themed Nintendo Switch OLED system. The console is on sale now and comes with a specially themed dock and purple and yellow Joy-Con controllers. The system will cost $360, slightly more expensive than the standard Switch OLED.
Splat in style with the Splatoon 3 Switch Pro Controller.
Nintendo
On top of that, Nintendo will launch a Splatoon-themed Switch Pro Controller. It goes on sale alongside the game on Sep. 9 and features blue and yellow grips, as well as Splatoon splatters and logos across the body. The controller will retail for $75.
New Amiibo
In addition to the game, Nintendo is releasing three new Splatoon Amiibo figures: Octoling (blue), Inkling (Yellow) and Smallfry. The figures are slated to launch sometime this holiday.
Nintendo
Nintendo will also be reprinting older Splatoon Amiibo ahead of Splatoon 3's release, including the Squid Sisters and Off the Hook figures.
Stage list
At launch, Splatoon 3 will feature 12 different multiplayer stages, including a handful of returning and refurbished maps from the first two Splatoon games. You can see the full list of launch stages below:
New stages
Scorch Gorge
Eeltail Alley
Hagglefish Market
Undertow Spillway
Mincemeat Metalworks
Returning stages
Hammerhead Bridge (Splatoon 1)
Museum D'alphonsino (Splatoon 1)
Mahi-Mahi Resort (Splatoon 1)
Inkblot Art Academy (Splatoon 2)
Sturgeon Shipyard (Splatoon 2)
Makomart (Splatoon 2)
Wahoo World (Splatoon 2)
More stages will be added to the game as part of free post-launch updates.
DLC
Following its release, Splatoon 3 will receive a regular stream of free updates. These will arrive every three months for two years, and will introduce new weapons, stages, modes and other content to the game.
Nintendo has also confirmed it will release a 'large-scale' paid DLC for Splatoon 3. No other information has been announced yet, but the teaser image included silhouettes of Pearl and Marina, the popular idols from Splatoon 2. Nintendo says more details 'will come at a later time.'
Splatoon 3 launches on Sep. 9. We recently went hands-on with the game and thought it feels familiar but features exciting possibilities. Players who subscriber to the Nintendo Switch Online plus Expansion Pack plan can also play Splatoon 2's Octo Expansion at no additional cost.