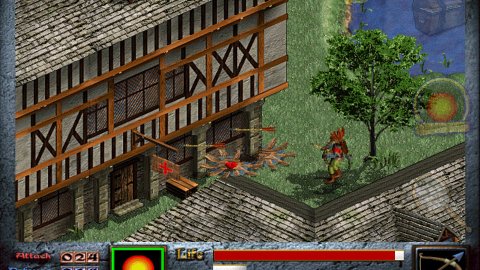 Dink Smallwood HD is the revised and corrected version of a much loved indie action role-playing game from the late 90's. GOG has re-released it, distributing it for free, plus in the remastered edition, thus giving everyone the opportunity to play it without spending anything.
Developed by
Robinson Technologies and released in 1997, when the indie scene was not yet in fashion, Dink Smallwood HD is characterized by a salacious humor, typical of those years, which creates really funny and surreal situations, between hens who run headless sprinkling blood and characters who end their existence in a tragic way, but always with a smile on their face.
Dink Smallwood HD on GOG
An image of Dink Smallwood HD Already the title seems to make fun of Lucas' Guybrush Threepwood, a bit the intimate dimensions of the protagonist, a Pig farmer from Stonebrook village, whose mother is killed and the house set on fire while he's out. In search of a new life with his aunt, ours runs into the evil cult Cast, who begins to fight to save the kingdom.
Despite the years, Dink Smallwood HD has built up a community of fans who
continue to
develop expansions for the game. You can find it here: The Dink Network.
Have you noticed any errors?