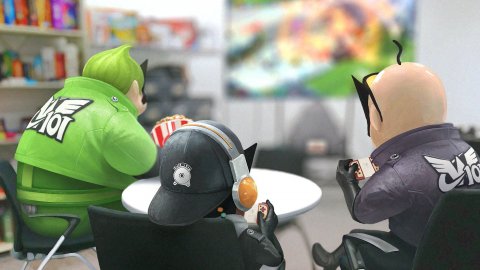 PlatinumGames
Through a new interview with the microphones of the Japanese magazine Famitsu, we have the opportunity to discover the very first details on Project GG, the new game by PlatinumGames, which also confirms that it
is working on
other new games not yet announced.
First of all, we discover that PlatinumGames' Project GG will include a feature similar to Bayonetta's Witch Time, namely the time-slowing effect that
allows you to
attack enemies after a precise dodge. The game is expanding from what was shown with the first teaser and Kamiya wants to make sure that this game is of the highest quality. It has also been confirmed that the Shiba Inu shown will be present in the game. For the moment, it has not been revealed when we
will be able to
find out more information.
We do know, however, that Tencent's investment has helped PlatinumGames to expand the game. Tecent, as he is typical of him, collaborates with PlatinumGames, but has no direct control over the project. The company is confident in the quality of Project GG and wants to make sure it succeeds.
PlatinumGames also aims to expand (over 1,000 employees) and wants to publish its games both digitally and physically on a global scale. Furthermore, it is confirmed that Project GG will be self-published by the company. Leading the publishing team will be the new employee Yamane, ex-
Nintendo
.
The new games in development are of various sizes, some small some large, and at least one of them is a new IP created internally and disconnected from Project GG.
We'll have to wait some time before we can find out exactly what it is. PlatinumGames is also close to the publication of Bayonetta 3, very recently available for pre-order on Amazon Italy.
Source Have you noticed any errors?
---
PlatinumGames Appoints Nintendo's Takao Yamane As New Vice President
Nintendo's former Managing Director of Sales Planning and Strategy Takao Yamane has joined PlatinumGames as the new Vice President, as revealed in their latest Twitter video.
This isn't the first restructuring at PlatinumGames either; earlier this year Producer Atsushi Inaba (Nier: Automata, Astral Chain) was appointed as President and CEO after serving as the Vice President at the company.
The video labels these changes as a "New Era" for PlatinumGames. In an earlier interview by Famitsu, conducted at the same time as Mr. Inaba took the presidency, it was said that a new management system is in the works to help cultivate new talents and convey the company's experience to the next generation. Mr. Inaba also said that he has been wanting to create a large-scale IP for quite some time, but he couldn't do it, and now, he thinks cultivating a solid foundation first is the first necessary step to achieve that goal.
DUALSHOCKERS VIDEO OF THE DAY
Currently, there are about 70 people in PlatinumGames's Tokyo Branch, and about 300 people in the company as a whole, but Mr. Inaba wanted to grow that number to at least 500. Therefore, more acquisitions of creators and managers were to be expected, and now it has proven correct with the recent joining of Mr. Takao Yamane. According to Mr Yamane, PlatinumGames would need someone of his expertise to full the ambitions of Mr Inaba and Mr Kamiya. He also insisted that Project G.G., a complete in-house IP of the company was bizarre and unique, and of course, very ambitious.
Mr. Kamiya also said that Mr. Inaba's ambitions are too big and that he has so much work to do. In addition, Yamane said that PlatinumGames will be reborn as a new company that only works for the now, without thinking about what tomorrow may be like. Another Kamiya comment said that they are making a game that won't end with just being 'Action'. Mr. Inaba also finished by saying that they have 10 years of material on hand, which is the period he intends to work for as president of the company.
Platinum Games is currently developing Project G.G. as well as Bayonetta 3, which is scheduled for release on October 28, 2022. More details besides the video will be revealed on 20 July, 2022 (Tomorrow) on Famitsu's website, and on July 21, 2022 in the Weekly Famitsu Magazine. The attention of the articles will be focused on the future trends of PlatinumGames, but there are hints left here and there that the company, starting with Project G.G., intends to develop games that could be enjoyed for a long time, unlike their usually short-action games.