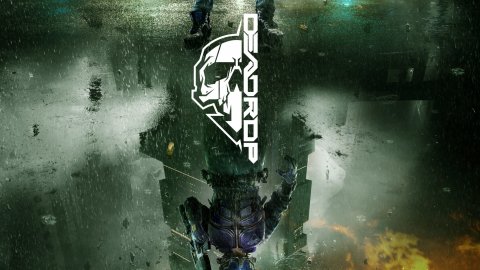 Deadrop
Midnight Society, the independent development studio founded by the famous streamer Guy 'Dr Disrespect' Beahm, has revealed that the multiplayer first-person shooter with NFT he
is working on
is called Deadrop and presented the gameplay through a small playable demo teaser.
This first taste of Deadrop is available for download for backers on the official Midnight Society website. You can see the game in action in the gameplay video posted on YouTube from the Pauls Gaming Live channel below.
As we can see, the game is still in an embryonic stage of development, with the demo basically consisting of a series of shooting ranges with immobile targets, but that's enough to get a first idea of ​​the title.
According to the information on the official website, Deadrop is set 40 years after the "Climate Wars", where
the world population has
increased dramatically as has pollution. Cities consequently built gigantic structures to extract toxins from the stratosphere, veritable "city-states", whose resources are at the center of the struggles of the "Skins", "Syns" and "Cleaner" factions. >
The game is described as a competitive PvPvE AAA shooter with maps that tend to develop vertically, rather than on a single plane. The goal of the developers is to "capture the essence of arena shooter level design with the scale and scope of Battle Royale and the mechanics of draw-based shooters".
Source # 1 Source # 2 Have you noticed any errors?
---
Dr. Disrespect reveals first gameplay demo for his FPS 'Deadrop'
Midnight Society, the developer founded by streamer Guy 'Dr Disrespect' Beahm, has debuted the first look at its first-person shooter Deadrop.
On Friday, the studio officially named the PvP multiplayer title – which plans to incorporate NFTs – and debuted a first playable 'snapshot' of the game, which is available to download for approved users on its website.
The playable 'snapshot' is part of Midnight Society's plan to include its community in the development of the game.
Notice: To display this embed please allow the use of Functional Cookies in Cookie Preferences.
Notice: To display this embed please allow the use of Functional Cookies in Cookie Preferences.
"That could be testing reload times and recoil patterns in a firing range or jumping in for the first-ever PVP sessions," it said. "No more 'I hope this game will be good'. Be there when your voice can actually make an impact because we want to hear it. Really."
The developer has also said it intends to "forge a partnership with a select list of mega influencers" and then work closely with them to launch "their dream gaming title".
Midnight Society's three leads consist of Beahm himself, studio head Robert Bowling and creative director Quinn DelHoyo.
Bowling, also known among Call of Duty players by his username fourzerotwo, was the former creative strategist and community manager at Infinity Ward.
DelHoyo, meanwhile, spent his last nine years working at 343 Industries, where he was most recently lead sandbox designer on Halo Infinite.
]]>