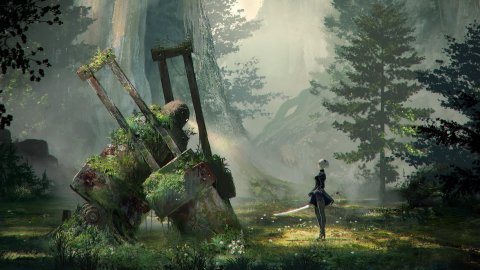 Nier
The new mysteries of Nier: Automata are shaking the community, especially as other details have emerged after the recently discovered mysterious door, such as a church that also contains a boss, all elements that seem to be part of a hitherto absolutely unknown fragment of the game. .
It remains to be seen whether this whole affair is a sort of fake built through a mod or not, but the managers continue to argue that these are very normal game sessions, with these contents that would therefore be part of the title original.
As we can see from the new video, Reddit user Sadfutago went on past the mysterious door that appeared in Nier's Copied City: Automata, discovering a strange church at the end of a twisted passage, with a altar and also a boss. It is a mini boss made up of floating dark blocks that he also uses to attack the protagonist.
This particular creatur
e is also
present in another part of NieR: Automata, so
it is not
a new element, but everything else has never been seen before. Lance McDonald, a well-known modder and dataminer, is following the issue with great interest but so far he has not managed to come to terms with the mystery: the strangeness of the story is given by the fact that these contents, such as the church, the secret door and the mini- boss, seem impossible for other users to replicate, even using mods or by performing datamining on the game files.
If it were not an elaborate mock-up, perhaps performed through mods, we would be faced with a yet another and complex "joke" by Yoko Taro and associates, which would not even surprise that much, after having also seen the hidden cheat to get directly to the finale. For the moment, the developers are silent on the matter.
Source Did you notice any errors?
---
Why does the Nier: Automata secret church include references to Replicant?
And who really is sadfutago?
New videos of the Nier secret church have been released that appear to reference Nier Replicant. The plot thickens!
As we've reported, reddit user sadfutago has been posting videos of a secret church area in Nier: Automata that has been previously unseen since it was released five years ago. Even Yoko Taro chimed in.
Now they've posted new, extended videos to reddit with more gameplay of the church area. They show a different character - 9S - battling a 'black blocky guy' the poster is struggling to beat, as well as new written dialogue in Japanese.
NieR:Automata The End of YoRHa Edition
And so the investigation continues.
Dataminer Lance McDonald, who's been keenly following the story, noted in the video the player interacts with a bird bath, an asset ported over from Nier Replicant.
He also notes that none of the assets used in the secret church area exist on datamined builds of the game across PC or PS4. So where did they come from?
Streamer and translator Aitai Kimochi has translated the Japanese dialogue, claiming it's a direct callback to Nier Replicant's Shadowlord Castle.
What's more, a report found in a hackable treasure chest contains a reference to Yonah (a character from Replicant) and the 'black blob' enemy looks similar to the shades from Replicant.
So, why all these references to Replicant?
A remaster of Nier Replicant ver.1.22474487139... was released last year across PS4, Xbox One and PC, but not on Switch. A Switch version of Nier: Automata will be released on 6th October this year. Is this all wild promotion for Automata, or could a release of Replicant also be on the way?
Also, why is sadfutago playing a version of the game with Japanese dialogue? And most of all: who the hell even is sadfutago?
Could it really be Yoko Taro himself?