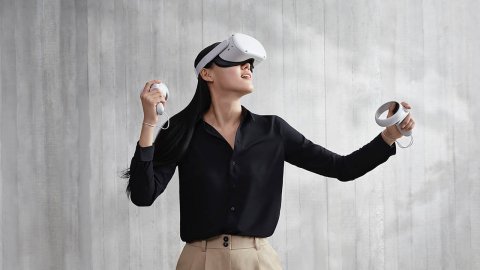 Meta Oculus Quest 2
Oculus Quest 2
, the latest VR headset produced by Meta, would have totaled sales of 10 million units so far, according to what was reported by Qualcomm during the last investor day.
Already a few months ago there was talk of success of Oculus Quest 2, with sales exceeding all other Oculus together, and a few hours ago this was somehow confirmed by Cristiano Amon, CEO of the company.
"Our technologies are the ticket of entrance to the metaverse, "said Amon, underlining Qualcomm's efforts to play a leading role within the VR and AR platforms.
Meta has not yet released any official Oculus Quest sales statement. 2, but as a hardware partner it is clear that Qualcomm has reliable information about it, so we can give the news of the 10 million units practically as established.
It therefore seems that Facebook ... sorry, Meta have finally guessed to the winning formula for virtual reality, in the form of a versatile and powerful stand alone device. Would you like to know more? Here's our Oculus Quest 2 review.
Source Did you notice any errors?