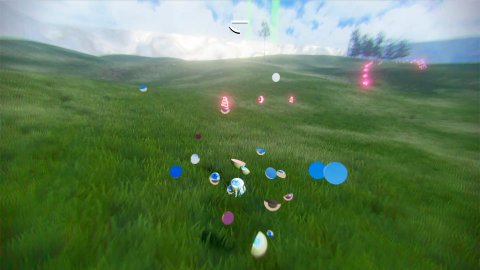 NOW / HERE, the
new game from
the Italian studio Mixed Bag, will be playable
on PS5 at
Milan Games Week 2021. This is just one of the titles currently in development in the studio. Let's read other details taken from the official press release:
Designed by the visual artist Patrick Tuttofuoco in collaboration with MixedBag, NOW / HERE is an expression of OGR Torino's experimental vocation in the cultural and technological fields. Inspired by the worlds and imagery of the artist's sculptural works, the video game frees the works from physical constraints to give life to an alienating and familiar digital universe, which players can explore between incongruous memories and fragments to be reconstructed.
The musical commentary of NOW / HERE is composed by the musician Gianni Ricciardi of WANT Musik, author of numerous games and known for having composed the soundtrack of Murasaki Baby by Ovosonico. To try NOW / HERE on PS5 you
will have to
go to the Mixed Bag booth in the Indie Dungeon. A talk
will also be
held on Sunday 14 November at 2.30 pm to present the project. Let's see some pictures of the game:
+5 For now we don't know if NOW / HERE
will be released on
other platforms, besides PS5.
Have you noticed any errors?