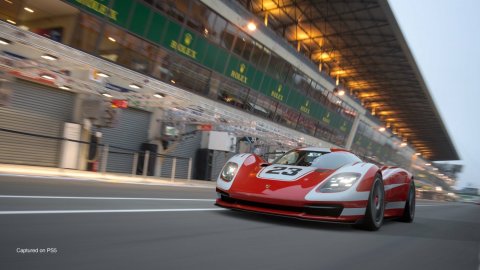 Gran Turismo 7
Gran Turismo 7
returns to show itself with a new video diary on the circuits, this time officially released by
Sony
on its social channels, after a first appearance through a leak which then led to its removal.
This is of one of the videos that had emerged ahead of its time last week, now published in official form in all its glory. Also in this case, the video is commented on by the words of Kazunori Yamauchi, who acts as a guiding thread to all the recent videos that have emerged so far of Gran Turismo 7, as director.
Titled "Tracks", the video focuses precisely on the tracks, that is the circuits on which players are called to compete within Gran Turismo 7. As explained by Yamauchi, Polyphony Digital uses a high-precision laser scanning system to capture any aspect of a real circuit and
to be able to
reproduce it in 3D with the game engine.
The creator of the series said he was very satisfied with the results achieved, arguing that with Gran Turismo 7 the level of realism is "tangible", also considering the variations applied by weather conditions, including lighting and various meteorological agents.
Yamauchi reported that his favorite track is the Nürburgring, the famous German circuit which represents a sort of Mecca for apparat car drivers, on which the director personally raced also in reality.
The trailer dedicated to car tuning was released just two days ago, continuing the presentation of the different aspects of Gran Turismo 7.
Have you noticed any errors?
---
Subscribe to Push Square on YouTube
Update #2: The second leaked Gran Turismo 7 video, focusing on the racetracks from the game, has been officially published. In this clip, series creator Kazunori Yamauchi believes that Polyphony Digital has reached a level of realism that is 'tangible', and he points to changing weather conditions and lighting that help sell the illusion.
Subscribe to Push Square on YouTube
Update #1: Sony has now officially released the behind-the-scenes video for Gran Turismo 7 which previously leaked, and it confirms that the new game will have more tuning parts than any past entries. You can watch the full clip above, with the circuits-focused video likely to follow later in the week.
Original Story: A couple more behind-the-scenes videos from Gran Turismo 7 have leaked online, as spotted and re-uploaded by GT Planet. The two clips – part of an ongoing series which has been running on Sony's social channels for a while now – focus on Personalisation and Tracks.
Subscribe to Push Square on YouTube
In terms of tuning, series creator Kazunori Yamauchi teases that the new title will have more modifications than any past Gran Turismo game, which is exciting. There's no complete list of circuits in the Tracks video, although we do know that some will feature changing weather and lighting.
Subscribe to Push Square on YouTube
Expect both of these clips to be officially published this week, but if you can't wait that long, then you can get the heads-up on this page.