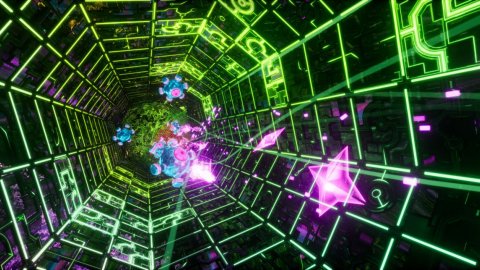 Prime Matter
Publisher Prime Matter has announced that it will participate in Gamescom 2022, where
it will be
present with System Shock, Gungrave G.O.R.E, The Last Oricru and other games, including a surprise.
The press release speaks of a "game" of unannounced role "of which more details will be provided in the coming weeks. The game description is very short and only says it will be "a stylish and truly original RPG, set in a sprawling metropolis with a post-apocalyptic future."
Prime Matter, which is part of the Embracer Group, did not disclose when it will present this title. From what we understand it should do it before the event, and then maybe deepen during the same, but the point is not yet very clear.
What matters is that Gamescom 2022 is well populated with games, after years of absence due to the
COVID
-19 pandemic. Basically we are talking about the largest European video game fair, first in the world if you consider the number of participants in each edition.
Source Have you noticed any mistakes?
---
Prime Matter Releases A Ton Of New Content In Crossfire: Legion
Prime Matter is a video game publisher that works with various developers. Smilegate is a popular video game developer that worked on Lost Ark Online and has continued work on Crossfire, one of its most popular games. The two companies came together to release Crossfire: Legion, a real-time strategy game, into early access. The companies have now released a major update for the game that introduces a ton of new content. Interested fans can purchase the game for $29.99USD here.
Players will now have access to Campaign Act II as the mission goes on. Players can now engage in four new missions that include new locations and story elements. Furthermore, the developers have introduces the Battlelines game mode and Badlands payload map.
In Battlelines, players can engage in combat where the focus is on army composition instead of micromanaging units. The game mode is macro-focused and allows players to place units strategically to fight towards the enemy's base. In Badlands, players must navigate through thick foliage and jungle terrain to secure the payload. Other elements that were introduces include game economy adjusting and hotkey mapping.
Additionally, the developers have removed the In-Game Store based on user feedback. Although units were only soft locked, Smilegate understood that the store was presented in a negative manner. Therefore, the developers have removed the store and all current and future units are now available. Also, players can look forward to DLCs in the future.
What are your thoughts on Crossfire: Legion? Are you interested in the game? Have you tried it since its release? Will you be trying it out? What do you think about the update? Which aspect of the update are you most interested in? Let us know in the comments below or on Twitter and Facebook.
SOURCE: Press Release