GTA 6, huge leak reveals everything about the game: release, plot, characters and settings (updated)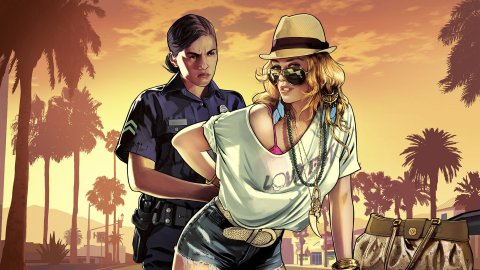 GTA 6, huge leak reveals everything about the game
GTA 6 may have been the victim of a huge leak that revealed everything about the game: from the release period to the plot, through characters, settings, campaign duration, reveal timing, reference platforms and much more.
It is a huge document, the result of the work of a person with
a lot of
free time and imagination or actually based on the original materials of Grand Theft Auto VI. Many elements reflect the recent leaks on the story, characters and settings of GTA 6, but going into much more detail.
According to this information,
GTA 6 will be
officially announced this summer, but the launch will take place only during the course of the autumn 2024 and only on next-gen platforms, therefore PC,
PS5 and Xbox
Series X | S.
PlayStation
4 and Xbox One will be excluded, as was conceivable for a project with these timelines and these ambitions.
In development since 2014, Grand Theft Auto 6 will boast a campaign lasting approximately 75 hours and a map which covers a total of approximately 225 square kilometers, including locations such as Liberty State, Carcer City, Vice City, Cottonmouth and a prologue in South America.
The protagonists will be three: Ricardo, Casey and Rose. The first is a former Colombian special agent obsessed with money and power, the second is a former boxer, hothead of the trio but without Trevor's psychosis, while finally Rose is described as a woman who appears meek but in reality extremely cold. and determined, even evil.
It
will be possible to
switch between characters freely after the initial stages of the campaign, although the visual effect will be different than in GTA 5, with a sort of quick zoom on the roads up to the location of the protagonist that we want to check, rather than a shot from above.
GTA 5, an official artwork with the three protagonists The story of GTA 6 will start with a prologue set in South America, as mentioned, and then develop from Vice City, where Ricardo, Casey and Rose will
be able to
meet and decide to form a gang to pursue their goals.
The alleged leak even includes the campaign finale, although it seems that some aspects are still subject to change, and a long list of supporting actors (with a couple of sensational returns), vehicles, music and more.
Update: Reddit account GTA VI LEAK claims that the document does not actually contain information stolen from the Rockstar offices, but rather it is a collection of rumors and rumors shared in the past by him and other leakers.
"I did not write the document with the leaks. It is based mostly on my posts, but I did not write it." he said GTA VI LEAK. "Whoever did this did an amazing job that must have taken a long time, but I didn't. It's not an official report or document like many people are suggesting. It's a collection of information from my posts as well as those. of other famous leaks. "
Source # 1 Source # 2 Have you noticed any errors?
---
Huge GTA 6 Rumor Leaks Release, Characters, Setting, Plot, and More
A new GTA 6 rumor is making the rounds for potentially leaking the first story and gameplay details of the new Grand Theft Auto game from Rockstar Games. Expected to be officially titled Grand Theft Auto VI, the next GTA game -- according to this new rumor -- will have two protagonists, a brother and sister (twins) who get separated following the murder of their parents by the cartel in 2003. Like GTA 5, GTA 6 will apparently have a prologue, and the events of these deaths will be at the center of this prologue, which 'could be set in Brazil.'
While the prologue is described as being in South America and in the past, the main campaign will take place in the present day and primarily be set in the states. Naturally, this is when the two siblings come together as adults, but on the opposite sides of the coin. According to the rumor, the male sibling grows up to become an agent for the DOA, the series' fictional take on the Drug Enforcement Agency (DEA). In other words, he grows up to take on the cartel. The sister, however, works her ranks up through the very same cartel that killed her parents as a hitwoman, with the ultimate goal of getting revenge on those who called the shots that led to the murder of her parents. The rumors adds that the pair discover each other in the modern day the 'hard way.'
As noted, the prologue takes place in South America, potentially Brazil. The main game is said to take place in a variety of locations or, more specifically, Cuba, Columbia, Vice City (Miami), and Carcer City. For those not familiar with Carcer City, it's the series' fictional take on an extreme caricature of a Rust Belt city. It's said to be not very far away from Liberty City (New York City).
Other details mentioned by the rumor are destructible buildings, ambitious technology, and a 2024 release planned. And that's about it, at least in terms of salient details. 
As always, take everything here with a grain of salt. This is not official news, only a rumor. Further, even if everything here is accurate, it's also subject to change. At the moment of publishing, Rockstar Games -- nor anyone at it -- has responded to this rumor in any capacity. We don't anticipate this changing for a variety of reasons, but if it does, we will be sure to update the story accordingly.
H/T, XFire and Matheusvictorbr.