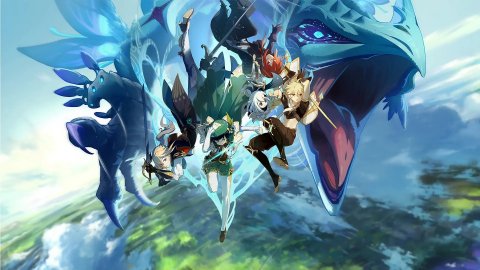 Genshin Impact
At the end of the Twitch live dedicated to Genshin Impact's Update 2.8, Hoyoverse surprisingly showed a
teaser trailer of
Sumeru, the new region that will be available with version 3.0, scheduled for the end of August.
The video during the western livestream was unfortunately practically unwatchable due to the technical problems that compromised the whole presentation a bit, but fortunately it was re-shared on YouTube and you can view it above.
As we can see, the trailer shows some of the locations we will visit in the Sumeru region, characterized by lush forests and places with an exotic charm, apparently of Middle Eastern inspiration. In the last sequence we also see a pillar with the statue of the Archon of the region and in the background what appears to be a desert area.
The Sumeru region, barring unforeseen events,
will be in
troduced with version 3.0 of Genshin Impact, accompanied by new activities, quests and characters, some of which perhaps have already been revealed by leaks. The update is scheduled for August 24th.
In the meantime, here are all the news of version 2.8 arriving on July 13th 2022 and the new promotional codes shared during the Hoyoverse Twitch presentation.
Have you noticed any errors?
---
'Genshin Impact' V2.8 Primogem Gift Codes, Plus New Banners And Diluc Skin
Genshin Impact
miHoYo
Genshin Impact just wrapped up its v2.8 special program reveal stream, back on schedule with its constant releases after COVID lockdowns forced delays earlier. We are marching toward the 3.0 update of the game with new continent Sumeru, but until then, we have two more patches to go. And v2.8 is proving to be a bit lighter than most.
But still, the stream gave away three gift codes for Primogems and other goodies, as it always does, and that's probably the main reason you're here. They are:
DTNVKAWBWSF5 – Reward: 100 Primogems and 10 Mystic Enhancement Ores
WANVJAFAXTER – Reward: 100 Primogems and 10 Mystic Enhancement Ores
HA6C2AFBXSZV – Reward: 100 Primogems and 10 Mystic Enhancement Ores
These have to be redeemed by the end of the day tomorrow, so get on that. And yes, the secondary reward is all Mystic Ore for some reason this time around, I'm not sure why that is. You will want to redeem this on the reward page right here. I just checked them, and all of them work.
As for the character banners for v2.8, we only have one new character this time around, and they're only a four star. We do, however, have the return of one very coveted 5 star, Kazuha, who is also the main character of the 2.8 story content, it seems.
The banners will be:
Banner 1 – Kazuha and Klee, with rate-ups for new 4 star Heizou
Banner 2 – Yoimiya
The entire "storyline" for 2.8 is called Summer Fantasia, and will contain the usual amount of various types of events we get for new patches. Among them will be Summertime Odyssey, Resonating Visions, Reminiscent Regimen, Hidden Strife, Evermotion Mechanical Painting and most impotantly a new outfit for Diluc where he has a high ponytail. Oh and Fischl has one too. Whatever.
Diluc
Hoyoverse
Anyway, this should not be the biggest patch in the world, nor does this seem like the set of banners that you will blow every Primogem you have on, unless you are dying for Kazuha which you don't have yet, or you need to get more constellation tiers on him. I think most people are probably starting to save for 3.0 and all the new Sumeru Dendro characters at this point, and that reveal should be in the next couple months here ahead of what seems like a fall release for that region.
Follow me on Twitter, YouTube, Facebook and Instagram. Subscribe to my free weekly content round-up newsletter, God Rolls.
Pick up my sci-fi novels the Herokiller series and The Earthborn Trilogy.