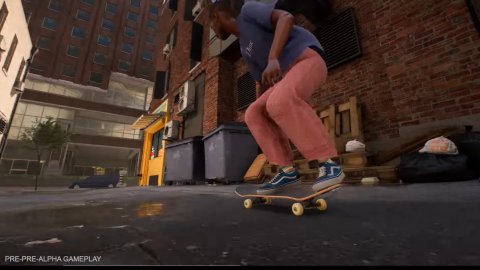 skate .
A dataminer found that skateboarding.
there will be
prize crates or loot boxes if you prefer. They will be called "Swag Bags" and will use a coin called "Taps", which will be obtained through challenges. They will be used to unlock aesthetic customization options, apparently.
When introducing the game, the development team promised that there would be no paid prize boxes. Evidently their words had to be taken literally.
Of course, everything must be verified, because it could also be a mechanics cut during construction, or something completely different from how it appears.
However, if they are present,
it will be
interesting to see if the prize funds will
be linked to
some form of monetization, even indirect (tier of a Battle Pass that give Taps, for example), or if they will be used as a simple extra for the player, without having any weight cheap.
Have you noticed any errors?
---
'Skate' Will be Free-to-Play and Offer Cross-Play
In a new 'The Board Room' interview, three central figures behind the upcoming game Skate, previously referred to as Skate 4, sit down to discuss important updates surrounding the highly-anticipated title. Here to shed light on the fourth game from the beloved franchise is Cuz Parry, one of the creative directors of the game, Isabelle Mocquard, head of product management at EA, and Dan McCulloch, General Manager of new Vancouver-based game studio Full Circle.
One of the biggest updates that the conversation touched on is the introduction of a free-to-play model for the very first time. While that will mean microtransactions will be part of the game, the board members ensure that it will not be pay-to-win. There are no areas of the map that will be locked behind a paywall, no paid loot boxes, and no game-altering advantages that players can pay for.
'We are taking inspiration from games like Apex Legends or other popular titles that are free to play, where spending money is totally optional, and it's mostly about cosmetics and convenience,' said Mocquard.'With such a model, we'll be able to keep the players united between those who decide to spend and those who don't.'
Making sure to reiterate that the new title is Skate and not Skate 4, Parry reveals that the game is here to stay for years to come.
'This isn't a sequel, it's not a remake, reboot, prequel remaster, whatever 're' you can do. We're in for the longhaul. That means we're not an iterative title. There won't be a Skate five through 10. We're going to do this, listen to what you guys say over the course of time and put the features that you want in.'
With a firm release date yet to be announced, we learn that Skate will be available on Playstation, PC, and Xbox with a mobile version also in development. Cross-play and cross-progression features will be available.
Elsewhere in gaming, Devin Booker has been announced as NBA's 2K23 cover athlete.