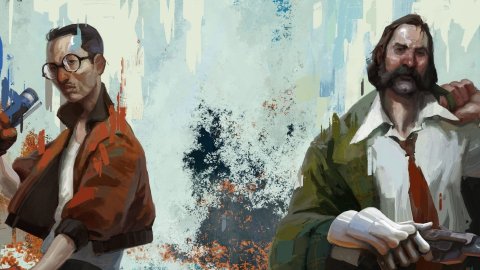 ZA / UM
As we have already reported, three key figures of the Disco Elysium team - ZA / UM - have been fired and founder Martin Luiga has left the company and his cultural association. Now, in a new interview, Luiga said something more, explaining that he wanted to be honest with the fans about what happened, within the limits of what he is allowed to say.
"It happened at the end of the year. last, "Luiga said in the interview. "They were fired on false grounds and the whole affair was very traumatizing both for them and for the people close to them."
Luiga does not seem to have the freedom to reveal too many details about the inner workings of ZA / UM which led to such goodbyes due to an NDA (non-disclosure agreement). Luiga claims to have made the announcement via the blog because the studio itself had not made any statements up to that point.
A destroyed pizza by Disco Elysium "I think already the fact that three prominent figures have been fired, while the fanbase expected them to continue working, is vital information, and it wasn't even kept completely secret, "Luiga said. "The fact is that I love truth, beauty and justice."
Luiga said that a sequel to Disco Elysium could be made in the future and that the other three developers licensed by ZA / UM
will continue to
make other games. "I think the three [Kurvitz, Hindpere and Rostov] will continue to make games," he said. "As for me, I have not yet decided the level of my involvement. At the moment, it is mainly the phase of thinking about ideas and managing our problems."
Disco Elysium
is one of
the most popular RPGs of recent years and many are saddened that the key figures behind the project do not have the opportunity to follow up on that success. You can read our Disco Elysium review here.
Source Did you notice any errors?
---
Disco Elysium: Ex-Developer Doesn't Think ZA/UM Will Make a Sequel
Martin Luiga, the ex-developer of Disco Elysium that brought attention to key figures being 'involuntarily' forced out of the studio, says he thinks it's unlikely that ZA/UM Studio will make a sequel to the modern classic RPG.
Speaking to GamePressure, Luiga was somewhat cagey about the circumstances of the departures of Robert Kurvitz, Helen Hindpere and Aleksander Rostov, but said he doen't believe the remaining developers at the studio will make a Disco Elysium 2:
'I think ZA/UM Studio in its current form will not be developing the sequel and I am unsure of the number of people that left in the company who also worked on the original Disco.'
ZA/UM's own response to the news did mention a new project in development, but pointedly did not make clear whether it was a Disco Elysium follow-up. We've contacted ZA/UM for comment. [Update: ZA/UM declined to comment on this story.]
The fallout from Luiga's original message - which announced the dissolution of the ZA/UM cultural association, an arts collective that spawned the studio and Disco Elysium - has seen some fans turn on the developers who remain at the studio, something he doesn't support:
'I do think though that it doesn't make sense to be offensive against the current workers of the company. It is unlikely to change their positions. The managers have a way of making people trust them. Robert (Kurvitz) and others had complete trust in them until it was too late. It pays to remain polite, even if it's hard – and I know that I have not been a very striking example at times.'
Luiga also said that he believes Rostov, Hindpere and Kurvitz will stay in the industry post-ZA/UM, and is deciding his own future: 'I think the three will continue making games, as for myself, I haven't decided the level of my involvement as of yet. Right now, it is mostly the phase of pondering ideas and managing our problems.'
Luiga made clear that he isn't disclosing all he knows about the situation, seemingly due to fear of legal reprisal, but said that the three key developers were 'fired on false premises and the entire ordeal has been very traumatizing for both them and people close to them.'
The future of Disco Elysium will be a sore spot for many fans. In our rare 10/10 review of Disco Elysium - The Final Cut, we said that it is a 'unique blend of noir-detective fiction, traditional pen-and-paper RPGs, and a large helping of existentialist theory,' and the Final Cut elevates the game from 'an already phenomenal RPG to a true must-play masterpiece.'
Joe Skrebels is IGN's Executive Editor of News. Follow him on Twitter. Have a tip for us? Want to discuss a possible story? Please send an email to newstips@ign.com.