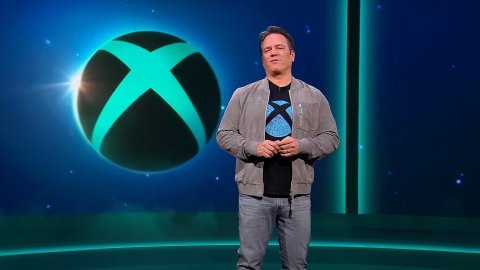 Xbox
Xbox
has recorded higher revenues than
Nintendo
in the last period, thanks to the weak yen that favored the American brand. The news is relevant not only for the purposes of ranking among hardware manufacturers, but also to downsize certain claims of Microsoft, which is presenting itself to the antitrust bodies as the Cinderella of the video game industry, in order to get the approval approved as soon as possible. acquisition of
Activision Blizzard
for nearly $ 70 billion.
According to public data released by Microsoft and Nintendo in their financial documents, in the period from June 30, 2021 to June 30, 2022, Xbox generated more revenue than Nintendo, even without the contribution of Activision Blizzard (which produced 8.8 billion dollars
in revenues
, more than half of those of Xbox): 16.22 billion dollars against 14.08 billion. Let's see the comparison in the graphs made by Derek Strickland of Tweaktown:
Xbox revenues Nintendo revenues As pointed out, the difference of two billion dollars in the revenues of the two companies mainly depends on the weakness of the yen. In fact, Mario's house reports its data in yen and loses a lot with the conversion into dollars. Indeed, the 1.68 billion yen of revenues for the given period, if converted with today's rate and not with that of June 30, would produce an even lower result, of 11.68 billion dollars.
Of course, revenues are not everything and it should be remembered that Nintendo has always managed to place more than
100 million
Nintendo Switch
es in recent years, but the data helps to understand that the competition is more heated than it seems. In all of this, it is pleonastic to point out that PlayStation holds the top spot with $ 23.41 billion in revenues.
Source Did you notice any mistakes?
---
The Best Xbox Series S Deal Yet Is Available Now
Target has the best Xbox Series S deal we've seen since launch. For $250, you'll get the Series S as well as an additional wireless controller . This bundle is valued at $360, so it's quite the deal. Though we have seen discounts on the Series S this year, outright discounts on consoles in brand-new condition have been rare. When deals have popped up, they haven't included a bonus like a controller.
This deal is available as part of Target's Deal Days promotion, which runs October 6-8. The Deal Days promotion has returned to compete with the second Amazon Prime Day of the year. Prime Day, however, doesn't start until October 11, so Target is getting a head start on its competition.
$250 (was $360)
The Xbox Series S deal is technically available through October 8, but we wouldn't be surprised if the retailer sold out before the end of the event. The Xbox Series S offers solid value when listed at its full price of $300, but toss in a second wireless controller and slash its price by $50, and you've got one of the best ways to check out today's hottest games. If you're interested in this deal, we recommend snagging it quickly.
All told, you're saving around $110 with this bundle.
Unlike its more expensive sibling, Xbox Series S won't run titles in native 4K and it lacks an optical drive to play physical games. Besides that, you'll have access to the same incredible library as Xbox Series X. Game Pass Ultimate is a particularly good match for Xbox Series S, as you'll gain access to hundreds of digital games for one low monthly fee.
Target has plenty of other great deals going on during its Deal Days event. Whether you're looking for a new game, headset, or other accessory, you're bound to find something that catches your eye. If you're looking for a particular game or just want a nice deal, make sure to check out our roundups of the best early Prime Day deals for PlayStation 5 and Nintendo Switch, too.
The products discussed here were independently chosen by our editors. GameSpot may get a share of the revenue if you buy anything featured on our site.