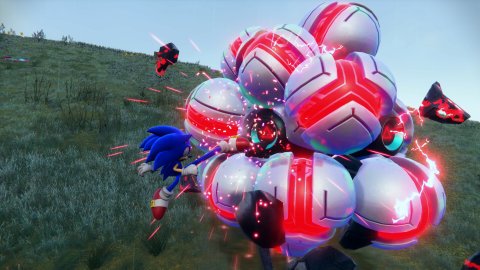 Sonic Frontiers
Sega
has revealed what are the official system requirements for the PC version of Sonic Frontiers. The game will use the Hedgehog Engine 2 engine and won't be particularly demanding to run at minimum (but not even maximum) detail.
Minimum:
Requires a 64-bit processor and operating system System Operating:
Windows
10 Processor: Intel Core i5-3470 or AMD Ryzen 5 1400 Memory: 8 GB RAM Video card: NVIDIA GeForce GTX 660, 2 GB or AMD Radeon HD 7870, 2 GB DirectX: Version 11 Disk space: 30 GB Notes Additional: Low details 720p @ 30 FPS. Requires a CPU that supports AVX and SSE4 instruction sets.
Recommended:
Requires a 64-bit processor and operating system Operating system: Windows 10 Processor: Intel Core i5-6600 or AMD Ryzen 5 2600 Memory: 12 GB RAM Video card: NVIDIA GeForce GTX 1070, 8GB or AMD Radeon RX Vega 56, 8GB DirectX: Version 11 Disk Space: 30GB Additional Notes: 1080p high details @ 60 FPS. Requires a CPU that supports AVX and SSE4 instruction sets.
To play at 720p and 30fps you need a really accessible system, equipped with a fairly old CPU and GPU. In reality, even 1080P at 60fps are obtained with a PC
that is not
exactly high-end, a fact that will allow many to play it at their best.
For the rest we remind you that Sonic Frontiers will be available starting from November 8th 2022.
Source Have you noticed any errors?
---
Sonic Frontiers' Tone Could Work for a New Shadow the Hedgehog Game
© Provided by GameRant
While its core identity has stayed pretty consistent, the Sonic franchise often tries new things in its games. Sonic Frontiers looks like it continues that idea, taking the series in one of the most novel directions in a while. Besides the open world, a first for the franchise, the game is said to tell a more serious story than past installments. Not only does it sound like an interesting decision in itself, but the new formula of Sonic Frontiers could perfectly set up a dedicated game for one of the franchise's most iconic characters.
The story of Sonic Frontiers is being created in part by Ian Flynn, who also worked on the IDW Sonic comics. Flynn has said he is working based on the groundwork of the story set by Sonic Team, adding things like the dialogue and character interactions. That character focus is something he's likely familiar with from his work on the comics, and is part of why this new game may end up more tonally mature than past titles. The IDW Sonic comics also feature higher-stake stories than many of the games. It's that character-driven and weightier approach that might mean this new era of Sonic could be the right time for a new solo game for Shadow.
RELATED: After Sonic Frontiers, Sega Could Consider Revisiting Old Sonic Characters and Settings
The Last Shadow the Hedgehog Game Missed Its Mark
Long-time fans are likely aware that Shadow has had his own game before, 2005's Shadow the Hedgehog. While it was a commercial success, the game remains one of the worst received of any Sonic title and a standalone game for the character hasn't been revisited since. Shadow the Hedgehog was criticized for its unclear tone in both its story and gameplay. But trying to give Shadow a more serious interpretation wasn't inherently a bad move, rather it wasn't done in any way that made the game more meaningful.
The new maturity of the story effectively boiled down to Shadow being inexplicably violent at confusing times and repeating PG-appropriate curse words. Meanwhile, it still followed the simplistic 'good-guys fight bad-guys' of before. Even his established personality is mostly undone by the weak attempts to make his character more serious. It ended up being a bit too 'edgy' in all the wrong ways. This muddled feeling translated to gameplay too. Not only did it suffer from the weaker parts of other 3D Sonic games of the time, like finicky controls and poor level design, but additions like guns and a heavier focus on combat hurt pacing and momentum even more.
Sonic Frontiers Could Establish the Tone for a New Shadow Game
The direction being taken by Sonic Frontiers could give Sega a second chance at a new Shadow the Hedgehog game. It may end up showing how a Sonic game can be more tonally serious, without overdoing that effort so much it becomes nonsensical. Based on Flynn's involvement and statements from Sonic Team, the latest game will have more character-focused narratives, which could rectify some of the mistakes from the 2005 portrayal of Shadow.
For example, iconic antagonist Doctor Eggman will feature, but his character will have a more complex personality, differing from his appearances as a cartoonish villain. That nuance would be well suited to explore Shadow's shrouded past; being created as a weapon, appearing first as a villain, and later switching sides. It's these elements 2005's Shadow the Hedgehog attempted and failed to explore. Sonic Frontiers giving personal stories more care could mean Shadow's story is approached in a more meaningful way were he to get his own game.
The gameplay of Sonic Frontiers could also lend well to a solo game for Shadow. The open world may enable things like smaller lore via collectibles, as games of that format tend to do. This could reveal deeper stories of Shadow's mysterious history. Combat also seems to take a more emphasized role again but in a different way to Shadow the Hedgehog. It could be a good way to show Shadow's more antihero-like side without straying too far from his unique abilities or making him too 'edgy', unlike the 2005 game. What's more, with Shadow appearing in the next Sonic the Hedgehog movie, it might just be the perfect timing for a new adventure for him.
Sonic Frontiers launches November 8 for PC, PS4, PS5, Switch, Xbox One, and Xbox Series X/S.
MORE: Why Sonic Frontiers' Take on Super Sonic Should Set a New Precedent