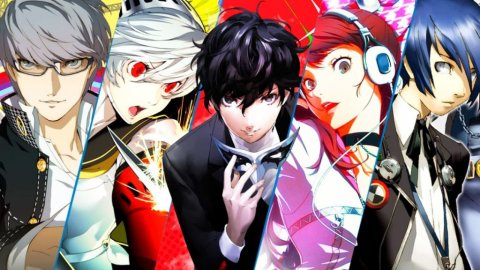 Persona
Atlus announced that Persona's 25th anniversary celebrations are officially over. Clearly, the disappointment of the fans, who expected the announcement of Persona 6 for the occasion, is palpable. All in all understandable expectations considering that Persona 5 has been out for 6 years now. The disappointment is apparently also shared by the team director and producer Kazuhiza Wada who has publicly stated that he
would like to
share more information about the future of the series, apologizing to the fans.
The celebrations ended over the weekend with the concert "Persona Super Live P-Sound Wish 2022: Crossing Journeys", where among other things the
release date of
the remastered versions of
Persona 3 Portable
and
Persona 4 Golden
was announced.
Persona, the protagonists of the various games of the series At the end of the event, flyers were distributed, which includes a message from Wada apologizing to the fans and promising news about the future of the series in the future, which we report translated below:
"Finally, Persona 5 Royal will be available worldwide for the latest hardware, including PC! Persona 5 Royal is 3 years old and Persona 5 is 6, but we are happy to share now the best gaming experience possible. It is an indispensable title for all players! "
" It is also with great sadness that we must end the 25th anniversary of Persona with the live concert "Persona Super Live P -Sound Wish 2022: Crossing Journeys ". There are so many things I would like to tell you, but I deeply apologize for not being able to do it on this occasion. I would like to share them with you at the right time, so please look forward to more information about the series. Person in the future. "
From Wada's words we learn that something is actually cooking at Atlus, but that unfortunately the time was not yet ripe for an announcement during the celebrations for the 25th anniversary of the series. In short, we just have to wait for further news in the future.
Source Have you noticed any errors?
---
A Persona 5 Co-Op Card Game Is Coming Next Year
Atlus has announced that a Persona 5 Royal cooperative card game is being developed in partnership with Pandasaurus Games.
Century: Eastern Wonders and Foundations of Rome designer Emerson Matsuuchi is creating the game, and is targeting a Q4 2023 release date. While this could mean anywhere from October to December next year, a graphic on the announcement post explicitly states it will arrive on October 21.
'Players will take on the roles of their favourite Phantom Thieves and fight to change the world in this cooperative card-based strategy game,' said Matsuuchi. Little else about the game was revealed, but it will likely be a standalone release instead of a collectible product given the company's roots in board game products.
It will seemingly let players explore and interact with various locations from the game, including at the very least its supernatural side, according to co-owner of Pandasaurus Games Nathan McNair. 'As a diehard fan of Persona 5 Royal, I cannot wait to bring the Palaces, Velvet Room, and world of Persona 5 Royal onto tabletops everywhere in 2023,' he said.
Despite Persona 5 Royal initially being released in 2020 (and Persona 5 being released in 2016), the game has recently grown in popularity again thanks to its imminent release on Xbox, Nintendo Switch, and PC on October 21.
Its predecessors are on the way too, albeit a little further out, as Atlus recently announced that Persona 4 Golden and</a> Persona 3 Portable will be released on PlayStation 4, Xbox One, Xbox Series, Nintendo Switch, and PC on January 19, 2023.
In our 10/10 review of the video game, IGN said: 'Persona 5 Royal takes an all-time great JRPG and makes it even greater. Going above and beyond a re-release or a remaster, almost everything has been expanded and improved with an entire game's worth of new content and improvements.'
Ryan Dinsdale is an IGN freelancer. He'll talk about The Witcher all day.