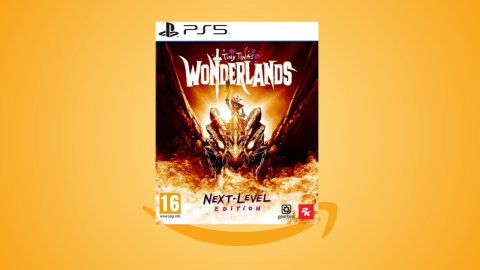 Amazon offers
Today's Amazon offers allow us to purchase a copy of Tiny Tina's Wonderlands for
PS4
and
PlayStation
5. The discount reported is around € 41. function ready (fn) {if (document.readyState! = 'loading') {fn ()} else {document.addEventListener ('DOMContentLoaded', fn)}} ready (function () {window.addEventListener ('message', function (event) {let target_origin = 'https://aff.netaddiction.it'; if (event.origin! == target_origin) return; if (typeof event.data == "object" && event.data.hasOwnProperty ( "type") && event.data.type == "embaff") {let embed_id = event.data.embed_id; if (embed_id == '1439') {document.querySelector ('#_ aff_embed_1439'). setAttribute ('height ', event.data.embed_size);}}}, false);}) function ready (fn) {if (document.readyState! =' loading ') {fn ()} else {document.addEventListener (' DOMContentLoaded ', fn)}} ready (function () {window.addEventListener ('message', function (event) {let target_origin = 'https://aff.netaddiction.it'; if (event.origin! == target_origin) return; if (typeof event.data == "object" && event.data.hasOwnProperty ("type") && event.data.type == "embaff") {let embed_id = event.data.embed_id; if (embed_id == '1440') {document.querySelector ('#_ aff_embed_1440'). setAttribute ('height', event.data.embed_size); }}}, false); }) The full
price for this
PS4 version game is 71 € while the
PS5
version normally costs 75 €. The PS5 version of Tiny Tina's Wonderlands is Next-Level Edition which includes the Dragon Lord Pack. The price is at an all-time low. The products are sold and shipped by Amazon.
In our review we explained to you that: "Tiny Tina's Wonderlands is basically everything we expected from the game. Fun, light-hearted, exaggerated and crazy. What struck us, however, is that it proves to be also a little bit more. Especially where it deviates the path, it inserts the overworld with all its facets and adds the double class on the single character, almost tries to overtake the third numbered chapter. Success and the passage of time will tell us this. . What is certain is that the potential and the fun are always there, immovable! "
We also point out that the Telegram Channel dedicated to geekinco offers is available. Follow it to be always updated on the latest offers selected by our editorial staff!
A dragon from Tiny Tina's Wonderlands This news includes a link with an Amazon affiliation that can earn a commission to geekinco.
Have you noticed any errors?
---
Amazon's Second Prime Day Starts Tomorrow—Here Are The 42 Best Early Deals You Can Shop Right Now
If you're looking to get a head-start on holiday shopping for less, you're in luck: Amazon has officially confirmed that there will be a second Prime Day-like sale this year, which it's calling the Prime Early Access Sale. The blowout two-day sale kicks off tomorrow, on October 11, and ends on October 12, but we're starting to see some great deals already live now. Much like the first Prime Day in July, you can expect Black Friday-level discounts on everything from robot vacuums and smart home devices to fall fashion.
During Amazon's upcoming Prime Early Access Sale, you can score Prime Day-level deals on millions of ... [+] products.
Illustration: Forbes / Photo: Retailers
This massive Amazon Prime Day sale event is expected to serve as the unofficial kickoff to this year's holiday sales period. It'll be a great opportunity to stock up on giftable items for less, and will likely be followed by tons of sales from other top retailers. Below, find all the details you need on tomorrow's event, plus check out some early deals that are already live. That's right, you can start saving tons of cash right away.
Is There Another Prime Day 2022?
Amazon will be hosting another major sale event starting next week. It's called the Prime Early Access Sale, so it's not referred to as a Prime Day. That said, the mid-October event will span two days, featuring deals on millions of products across all categories. Thus, it'll be very similar to the retailer's past Prime Day events.
When Is The Second Amazon Prime Day?
The Prime Early Access Sale will kick off at 3 a.m. EDT on October 11 and extend through 2:59 a.m. EDT on October 13. This means that you'll have exactly 48 hours to take advantage of this season's deals. That said, there are already a ton of awesome pre-event sales happening now on Amazon. Check out the small sampling of money-saving offers we compiled below.
What Is Amazon Prime Day?
Amazon Prime Day started in July of 2015 as a one-day sale event intended to celebrate the company's 20th anniversary. It has since morphed into an annual two-day affair in which Amazon offers major discounts across all of its product categories. And with the latest announcement of a Prime Early Access Sale, we wouldn't be surprised if the e-tailer starts holding bi-annual Prime events going forward.
How Many Times A Year Is Prime Day?
Technically, Prime Day only happens once a year. But this year, Amazon is running a second Prime Day-like sale just in time to kickstart the holiday shopping season. Time will tell whether this is a special year or the beginning of a series of bi-annual sales going forward.
Do You Need A Prime Membership To Shop Prime Early Access Deals?
Yes—in order to take advantage of most Prime Early Access deals, you'll have to be an Amazon Prime member. If you've never had Amazon Prime before, you can start with a 30-day free trial. After the trial is over, membership costs $139 for a full year or $14.99 per month. If you're a college student, you can get a 6-month free trial followed by a discounted rate of $7.49 per month for as long as you're in school.
If you're not already a member, here's everything you need to know about how to sign up to enjoy Prime benefits (including ways to get a Prime membership for free or at a discount).
The Best Amazon Deals You Can Shop Right Now
While the Prime Early Access Sale doesn't officially start until next week, you can already save big on thousands of items at Amazon. Here are some of the best deals happening right now. Don't wait, however. These deals are offered for a limited time and in some cases, inventory is limited.
Prime Day Early Access Sale Deals: Tech And ElectronicsGet An Echo Dot For 63% Off
Here's your opportunity to pick up one of Amazon's bestselling smart speakers for only $18. This deal also comes with one month of Amazon Music Unlimited (worth $8.99). Keep in mind that the membership will auto-renew if you don't cancel it after the first month, though.
Snag This Bluetooth Shower Speaker For Just $15
This little gadget makes a great stocking stuffer or white elephant gift during the holiday gift-giving season. When you clip the on-page coupon, it's on sale for only $15.
Pick Up This Belkin Charging Station For Over 15% Off
The Belkin Wireless Charging Station allows you to keep all of your Apple gear charged and organized without a mess of cords. This model includes 7.5W fast charging for iPhones 13, 12 and 11; a 5W charging pad for your AirPods and a magnetic Apple Watch charger.
Save 25% On This Laser Printer That Prints, Photocopies and Scans
The Canon ImageClass MF453DW is nicely equipped to handle all of a family's printing needs, and with its scanning and photocopying capabilities, it'll also work for your home office. Right now, you can save $90 on this all-in-one (monochrome) laser printer, which by the way, churns through 40 pages per minute and does double-sided printing as well.
Pick Up A Top-Rated Kindle For Less
This popular and affordable Kindle e-reader from Amazon is nearly 30% off right now. It features a 6.8-inch display with adjustable warm light and a battery that lasts upwards of 10 weeks between charges. Thanks to its 300 pixels-per-inch resolution, on-screen text is very sharp and easily readable, even in direct sunlight. It costs just $100 now and you can save an additional 20% if you trade in an old e-reader.
Protect Your Outdoor Space For Just $140
The Ring Floodlight Cam includes a motion sensor, 1080p security camera with night vision, two LED floodlights, a 105dB security siren and other features that work with your smartphone. During Amazon's Early Access sale, you can purchase this smart home security device for just $140 (a savings of $60).
These Best-Selling Earbuds Are Over 40% Off
Samsung's best-selling Galaxy Live Buds feature active noise cancellation, voice assistance and up to eight hours of non-stop listening. From the morning commute to the cardio workout, the in-ear design offers lasting comfort as you tune into music, podcasts, calls and more. Add them to your auditory arsenal and take 41% off for a savings of $70.
Enjoy Tunes On The Go And Save $20
JBL's best-selling Clip 4 Bluetooth speaker has a respectable 4.8-star rating and over 16,000 reviews, so you know it's a good buy when you're looking for tunes on the go. Currently 25% off, it's available in a range of colorways to match your pack, purse or personal style.
Save 46% On The Echo Show
This deal is a new low price for the Show 8. This popular smart display is compact, highly rated and offers all of the features you want for your smart home, including video calls with auto-framing, voice command, hands-free recipe instructions and media streaming.
Grab A Popular Gaming Headset For Almost 50% Off
If you do any amount of gaming a solid headset is a must-have accessory. This popular model from HyperX is comfortable, sounds good and is currently on sale for 50% off.
Save $100 On This Yamaha Sound Bar
Your TV's built-in speaker probably isn't cutting it. A simple sound bar will dramatically improve your viewing experience. This highly rated Yamaha model includes a wireless subwoofer, Bluetooth connectivity and built-in Alexa voice control. It's also currently on sale for almost 30% off.
Keep Track Of Your Car Keys For 9% Off
Before you misplace your keys, wallet or assorted tech again, invest in Tile's Bluetooth trackers that keep tabs on prized belongings. Currently 9% off, the starter pack includes a Mate and Slim tracker, both of which ring when you're within Bluetooth range to alert you of their location. Conversely, a double-tap of the Tile button rings your phone, even if it's on silent, so you're never without your essentials.
Take 18% Off A Popular Smart Lock
Whether you're looking to streamline check-in for your Airbnb or simplify your own home's security, this smart lock is a great option. The Ultraloq offers six different entry options and can be completely controlled from your smartphone. This model can store up to 100 different fingerprints and 50 unique codes.
Save Over $300 On These High-End Bookshelf Speakers
If you want the best audio experience at home, you need a great pair of bookshelf speakers. Klipsch has been making some of the best speakers for the past 50 years. Right now, you can save over $300 on this matte black pair.
Amazon Prime Early Access Sale Deals: HomeGet This Robot Vacuum For $40 Off
You don't have to bother waiting until Prime Day to score a deal on a robot vacuum considering this one is currently on sale for $40 off. The Eufy RoboVac G30 features smart navigation (so it won't bump into walls or fall down the stairs), app control capabilities and ultra-strong suction.
Make Any Meal For Just $150
This do-it-all Instant Pot functions as a slow cooker, steamer, rice cooker, sterilizer, yogurt maker, warmer and more. It also comes with a recipe book featuring over 800 recipes, so you'll never find yourself wondering what's for dinner. With a 4.7-star rating and over 56,000 reviews, it's safe to say this one's a winner. Pick it up and enjoy over 20% off.
Sleep Soundly With A Bed-In-Box Mattress For Under $600
If you're looking for an affordable mattress, this Sweetnight model is currently on sale for under $600. It's a hybrid mattress with a plush pillow top and gel memory foam core. This model includes a 100-day return, refund or replacement policy and comes backed by 3,800 reviews at almost five stars. The queen is also on sale for $465 with the on-page coupon.
Upgrade Your Shower Experience For $67
Don't just shower—immerse yourself in a rainfall and water massage experience with this 12-inch, wall-mounted shower head combo with an extension arm. It's on sale for $67 and comes equipped with a handheld head that offers nine spray patterns and a pressure-adjustable head with 100 robust anti-clog nozzles for the ultimate rain shower experience.
Pick Up This All-Encompassing Cookware Set For 17% Off
Whether you're cooking for a family, a couple or just yourself, you'll need a comprehensive cookware set with all the essentials, and Ninja's 12-piece set fits the bill. Currently $70 off, the set comes complete with pots, pans and skillets, all of which are oven-safe up to 500 degrees and backed by a 10-year warranty.
Be The Host With The Most With This Serta Air Mattress For 36% Off
Hosting for the holidays? This Serta air mattress will keep your guests comfortable but can be quickly packed away when not in use. This model has steadily declined in price this year—even dropping below $100 in August—but this deal is still a great discount from its MSRP. If you don't want to wait for a better deal, this is a nice opportunity to save.
Take 30% Off A Cutting-Edge Wireless Meat Thermometer
Keeps tabs on your burgers, briskets and more with ThermoPro's wireless meat thermometer, now 30% off for a savings of $30. Bluetooth 5.2 offers up to 500 feet of range while the companion app displays accurate readings to take the guesswork out of prepping meats. The probe runs for up to 36 hours on a single charge, and the Signal Booster dock lasts for up to three months.
Bring Home This Beloved Heated Blanket For Almost 40% off
Fall has officially arrived and it's only getting cooler from here. Stay cozy all season long with the Sunbeam Royal Heated Blanket. This soft blanket is machine washable and dryer safe, offers 10 different heat settings and a 10-hour auto-off function for added safety.
Save Goodbye To Wrinkles For Just $20
Getting your clothes freshly pressed is a lot easier with a good iron. This Beautural Steam Iron is 41% off right now and features a precision thermostat dial and a ceramic-coated soleplate that glides over clothing. Best of all, it's self-cleaning.
Snuggle Up With A Reversible Throw For 52% Off
Your living room needs a new throw blanket that you'll enjoy through fall and winter, and Eddie Bauer's iteration is one of our favorites. The reversible polar fleece fabric offers next-to-skin comfort and warmth on a cold day, and it's available in a range of colorful styles. This one is priced down to less than $20.
Save Over 35% On This Bath Caddy
Get some much needed R&R with a luxury bath caddy. This model looks good and has a ton of useful compartments to hold everything from a glass of wine to your book. Make sure to clip the on-page coupon to save 38% right now.
Protect Your Backseat For $30
The pup might own the backseat, but they don't have to destroy it when you install this comprehensive seat cover. The universal design fits like a glove whether you're chauffeuring Fido in a compact car or SUV, and the easy-to-clean waterproof cotton stands up to all manner of messes. Pick it up and take over 20% off.
Snag This Convenient Luggage Set For 46% Off
If your luggage has seen better days, this deal is an easy way to upgrade your travel bags in one fell swoop. For only $161, you'll get three bags—including a 20-inch, 24-inch and 28-inch—all of which feature a hardshell exterior and smooth rolling wheels to keep your belongings safe in transit.
Amazon Prime Early Access Sale Deals: Personal CareGet This Popular Massage Gun For 73% Off
A massage gun isn't just a great tool for athletes, it's helpful for anyone who suffers from sore, tight muscles. This deep tissue massager is highly rated on Amazon and is currently on sale for 75% off. It's historically been available for anywhere between $90 and $120, so this deal with the on-page coupon is a great chance to save a little extra.
Save Big On A Bestselling Power Flosser
Upgrade your flossing game with this electric performance flosser, which the manufacturer claims is 50% more effective than traditional dental floss. It's easy to use: Fill the reservoir with warm water, then begin flossing by placing the tip of the device in your mouth. Right now, it's 20% off.
Protect And Whiten Your Teeth While Saving $90
Amazon
Oral-B iO Series 9 Electric Toothbrush with 3 Replacement Brush Heads, White AlabasterBuy From Amazon
Oral-B's iO Series 9 electric toothbrush is pricey but you can knock the price down to below $240. This pro tool helps you maintain the perfect pressure for a uniform and deep clean with micro vibrations and oscillation action. The brush includes three replacement heads, a charging stand and travel case.
Slash 20% Off This Philips Multi Groomer
This simple grooming kit comes with 25 pieces that can tackle beards, body, face, nose and ear hair. You'll get six hours of use per one-hour charge and a handy carrying case to keep everything organized.
See Yourself In Lights For $55 Off
This snazzy full-length mirror cabinet can hold your beauty products and jewelry in its five roomy storage shelves, while illuminating your reflection with a bright LED light. It's wall-mounted so you can hang it up wherever you need it the most, like a bathroom that maybe doesn't have a ton of storage space. Right now, you can save $55 on the mirror thanks to Amazon's Prime Early Access Sale.
Prime Day Early Access Sale Deals: Kids And BabiesSave 40% On This Popular Car Seat
This highly-rated Graco convertible car seat keep your infant or toddler safe while riding in the car, with padded straps that are easy to adjust and re-size for comfort, plus a washable, cushioned seat insert. At 40%, you can use it as a second car seat or a back-up for when friends or relatives visit with a rental car.
Rock Your Baby To Sleep For 23% Off In This Foldaway Bassinet
This portable bassinet—originally $100 but priced at just $77 for the Amazon Prime Early Access Sale—is hugely convenient without sacrificing good sleep for your baby. Reviewers remark how soft and comfortable the mattress pad seems to be, plus the product's general ease of cleaning and folding away for storage.
Save $170 On This "Bugatti Of Baby Bike Trailers"
Amazon
Hamax Outback Two Seat Reclining Multi-Sport Child Bike Trailer + StrollerBuy From Amazon
For active parents who like to tote their kids around on the trails, this high-quality and extremely well-reviewed bike trailer might be just the ticket. Kids up to 88 pounds can fit comfortably in the cushioned safety seats, and families can ride together in any weather thanks to the trailer's protective mesh zip-up cover.
Speed Off With A Sturdy Interactive Driving Toy For Less
Speaking of wheels, give little ones a head start on the old nine-and-three with this top-rated interactive driving toy. It's 53% off for the Prime Early Access Sale and comes highly recommended for kids between three and seven years of age. The best holiday gift ever, check.
Take 50% Off This Sleek Kids Tablet For Learning And Play
At a whopping 50% off, the Fire HD 8 Kids Tablet is almost a no-brainer to bring home. This powerful education-meets-fun tool will allow your little learners to pick up new languages, play games of all sorts, and use the whole gamut of apps available through an Amazon Kids+ membership (a year of which is included for free with the purchase of this device). Best of all, this Fire HD 8 comes in a sturdy protective case hued in a bright blue color, so it's almost impossible to lose or break.
Save On This Fun "Plant" Gift (No Watering Required)
Designed for adults but appropriate for older kids, too, Lego offers this 771 piece succulents plant building set that allows you construct nine different plants and present them in a planter that can be used to decorate a room or working space. Best of all, there's no watering or upkeep required.
Prime Day Early Access Sale Deals: FashionSnap Up Some Super Comfy Slides For 40% Less
These Joomra slides were one of the most popular products among both Forbes Vetted readers and editors during July's Prime Day. But since they're already almost half off, there's no need to wait for the Prime Early Access Event to pick up a pair. Wearers say they're the perfect house shoe if you're looking for both comfort and support.
Cozy Up In Ugg Slippers For Less Than $50
If you thought Ugg only offered comfortable and cozy slippers just for women, think again. These slip-on Koolaburra men's slippers come in five different colors and provide warmth, comfort and quality that's designed to last for years. They are a perfect gift for any guy in your life.
Snap Up A Stylish Backpack For 33% Less
Not only is this stylish pack highly rated and durable—but it looks good doing it. Whether you're heading to the office or the airport, the Herschel Classic has a sleek, streamlined look that'll fit in anywhere. It's also designed with contoured shoulder straps and breathable mesh back padding to make it comfortable for all-day wear.
Save $330 On A Timeless Timepiece
Reviewers praise this watch's simplicity and style—not to mention its high quality, especially for the price. It's super-functional, too, with 10-bar water-resistance and the capability to dress it up or down based on the setting.
For even more Amazon Prime Day savings opportunities, head over to our Amazon Prime Day coupon page to check out the deals from some of our favorite retailers.